ETH broke out from its ETH/BTC pairing resistance.
Ethereum ETFs are on the horizon.
More incentives for users to hold ETH starting 2022.
The analogy of an awakening crypto juggernaut is not too far-fetched as Etherum continues to show resilience during the current market mandate.
Despite consolidating for nearly six and a half months, ETH broke through the ETH/BTC pairing resistance and shows bullish signs of reaching new highs. It's a classic case of seeing the "flippening" unfold.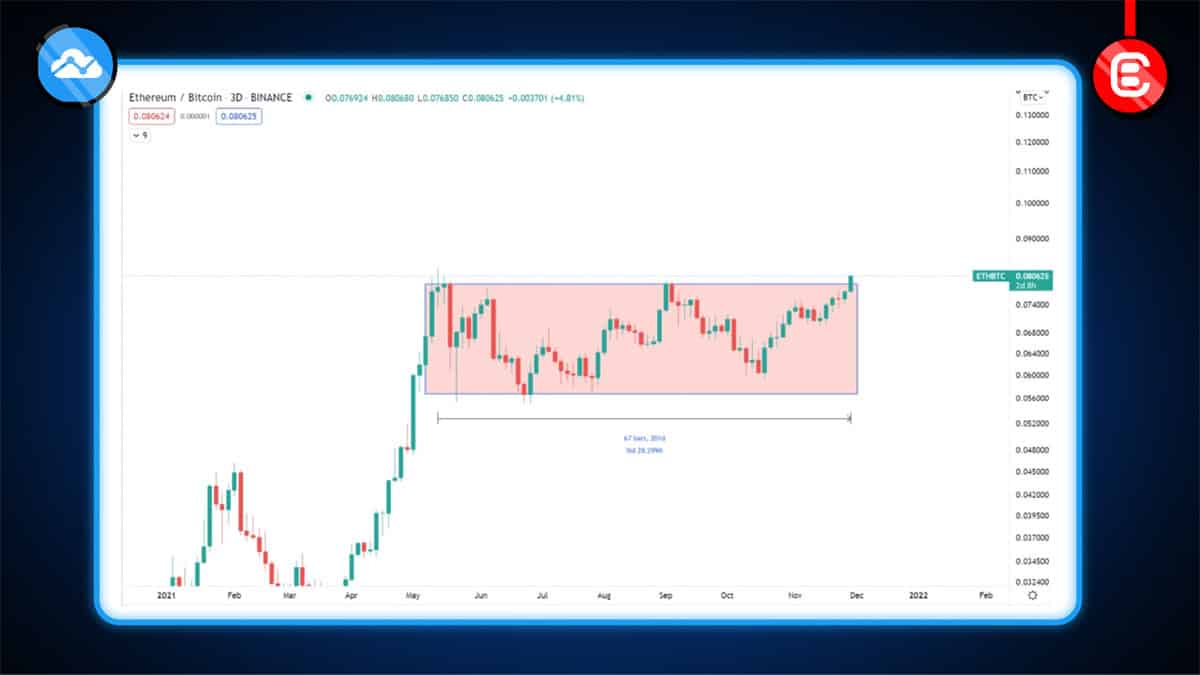 Crypto analyst Wolf pointed out that Ethereum is bound to reach a new ATH due to the current breakout, while the common consensus on Twitter is that ETH is bound for five digits during the current bull cycle.
Yet, everyone saw this moment coming, as Ethereum's utility is a staple of the current market trends, aside from the exorbitant high transactions fees. But that will be old news as soon as Ethereum fully transitions to proof-of-stake.
Still, in 2021, NFT sales on Ethereum alone reached an absurd level of $7.1 billion while the total value locked (TVL) on the Ethereum network, according to DeFiLlama, reached $183.59 billion. But, newer news made it possible for ETH to break the consolidation pattern and generate more optimism in the market.
The Ethereum mooning playbook
Talks about an ETH ETF sparked more enthusiasm towards Ethereum after Kelly Strategic Management filed for an Ethereum Futures ETF. The common consensus is similar to when the Bitcoin Futures ETF was announced: when moon?
Sure, companies are turning to Ethereum as a highly valuable utility asset, given the currency has already increased by 580% year-to-date, compared to Bitcoin's near 100% increase.
Another indicator of why Ethereum is not slowing down is the number of tokens taken out of the exchange, with the volume on exchanges continuing to decrease. That's as much of a bullish indicator as you can get!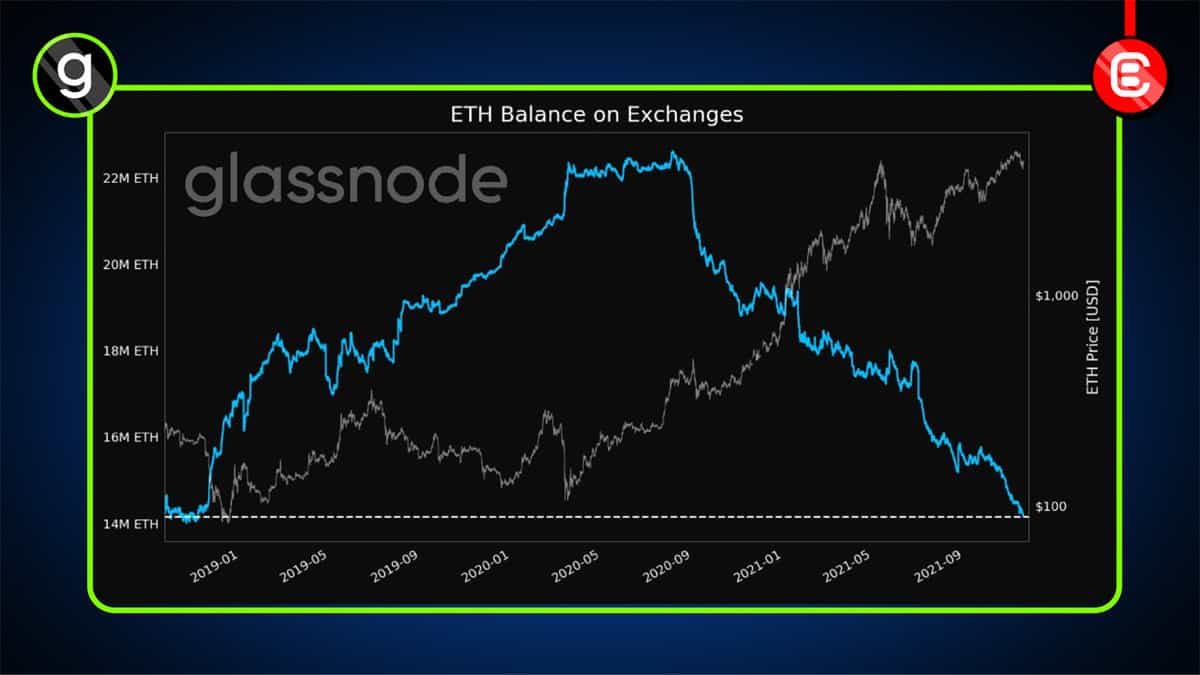 What's a given is that Ethereum is steadily progressing towards a cheaper network, incentivizing users to keep hold of their ETH through their Proof of Stake consensus. The merge is expected to occur between Q1 and Q2 of 2022. Marius Van Der Wijden, an Ethereum developer, posted a Tweet in which they invite blockchain users to test the merge, meaning things are getting real, real fast!
Regardless of that, the ETH 2.0. beacon chain is a success, with 8.7 million ETH stakes on the network.
Banter wisdom
The consolidation breakout is very justified, and it's not only because of the Ethereum ETF. Excitement is growing within Ethereum because institutional investors recognize the overall value of Ethereum and not only Layer 1; that's why Cathie Wood allocated 40% of ARK Capital's funds into Ether.
Surprised? You should be, really!
As explained on a recent Crypto Banter show, Ethereum's Layer-1 is currently broken. There's no doubt about what's now driving the ETH hype: Ethereum Layer-2 solutions like Immutable X, StarkWare, and Arbitrum. Until Ethereum gets its network straight, Layer-2 will continue to prime and attract new users, and that includes institutional investors as well.
But, Ethereum has always been a trendsetter. Think about ICOs, DeFi, and NFTs. With a growing interest in Web 3.0 and the metaverse, Ethereum will have a pivotal role in how the new elements will be stacked on top of each other. We believe ETH is on its way to the next leg up, and investors should think outside the box and recognize the value Layer-2 brings to the table. In other words, think like a VC investor and get exposure to Layer-2 stat!
Crypto markets are volatile, but historically, December seems to be a welcoming month for crypto. However, COVID-19 is one factor that needs to be considered before going full degen in Ethereum. Sure, crypto is seen as a hedge against inflation, but if Bitcoin dumps harder because of a simple tick, then Ethereum's growth will not resemble a mooning mission.