In recent years the explosion in cryptocurrency has generated new billionaires, gatecrashing the conventional list of well known names and putting crypto-preneurs on the global map of the elite! Read on to find out who made it into this elite group, how they did it, and if you can follow their example. Play your cards right, and this could be you!
Although many billionaire wallets remain anonymous, and Satoshi's identity remains unknown, we have seen a new generation of visible crypto billionaires become household names. This is all the more impressive because the crypto industry, as a sophisticated marketplace, is still very much in its infancy.
How did they do it and will the trend continue?
Traditional billionaires vs crypto billionaires
What's different this time?
Under 30? The crypto world is your oyster
Traditional vs crypto billionaires
According to Forbes updated live list of billionaires* the Top 10 richest people on the planet (and their net worth) are as follows;
Elon Musk (aged 50) – US$271.4 billion
Bernard Arnault & Family (72) – US$191.6 billion
Jeff Bezos (58) – US$191.3 billion
Bill Gates (66) – US$135.6 billion
Larry Ellison (77) – US$121.2 billion
Larry Page (48) – US$119.6 billion
Mark Zuckerberg (37) – US$118.4 billion
Warren Buffet (91) – US$115.7 billion
Sergey Brin (48) – US$115.3 billion
Steve Bullmer (65) – US$100.2 billion
The live list from Forbes for the Top 10 richest in crypto* are:
Sam Bankman-Fried (29), rich list rank 58 – US$26.5 billion,
Brian Armstrong (38), rich list rank 231 –  US$9.8 billion
Chris Larsen (61), rich list rank 490 –  US$6 billion
Tyler & Cameron Winklevoss (40), rich list rank 703 – US$4.4 billion each 
Fred Ehrsam (33), rich list rank 1074 –  US$3 billion
Jed McCaleb (47), rich list rank 1105 – US$3 billion.
Michael Saylor (56), rich list rank 1594 – US$2 billion
Barry Silbert (45), rich list rank 1683 – US$1.9 billion 
Matthew Roszak (49), rich list rank 2010 –  US$1.5 billion
Tim Draper (63), rich list rank 2040 – US$1.5 billion
A noticeable absentee from this list is Changpeng Zhao (CZ), the CEO of Binance. Although absent from the Forbes list, a recent article in Bloomberg Wealth estimates his fortune at a staggering US$96 billion, which would take him straight to the top of the crypto elite.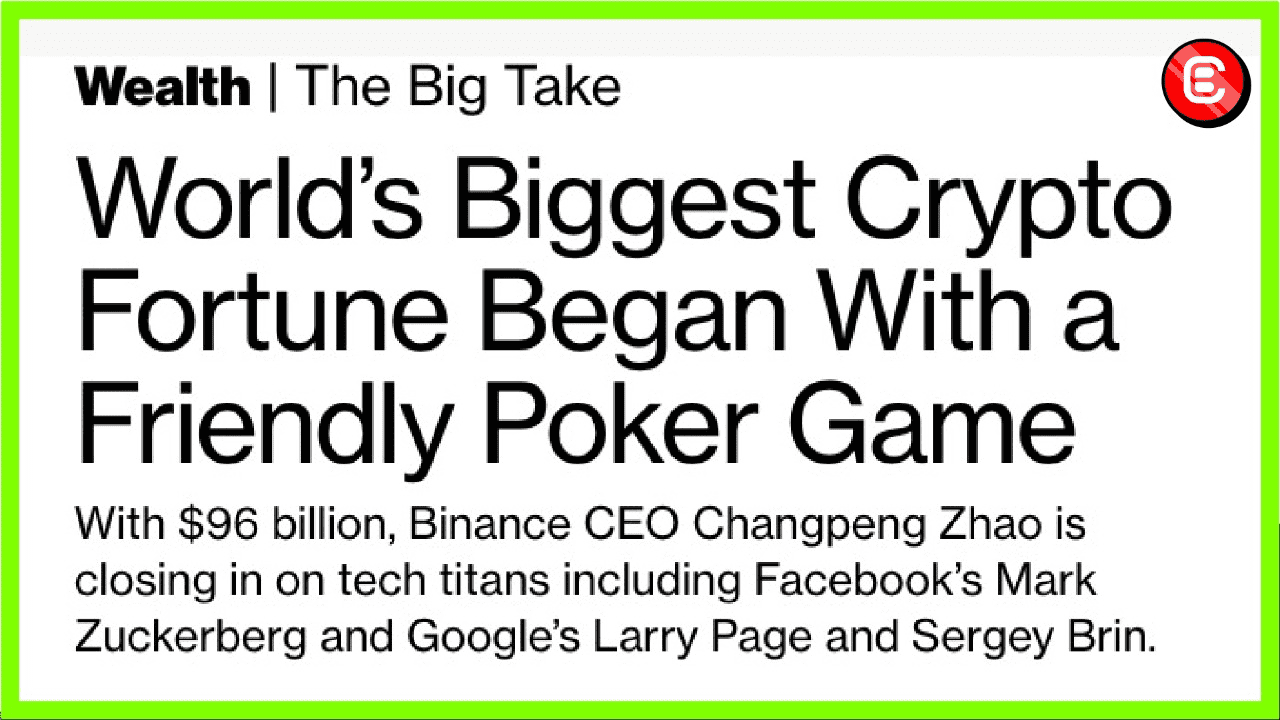 The new kids on the Block are doing it faster the same
Two stark contrasts jump out immediately: The Rich list's billionaires are older (61 vs 46, on average) and significantly richer (US$1.48 trillion combined wealth compared to US$60 billion combined wealth).
But the gap is not as vast as it seems. Let's unpack the three things the Old Guys and the Crypto Guys have in common.
Firstly, the industry: technology. Eight of the Top 10 billionaires' fortunes were made in technology. Crypto is all sorts of things to all sorts of people but, at heart, it's about technology.
Secondly, the crypto-billionaires are roughly the age now that the richest Old Guys were when they first became millionaires – their 20s, 30s and 40s.
Thirdly, in both cases, the breakthrough into the billionaire club was achieved in a short space of time relative to the staggering amounts of money they have amassed. The crypto guys are just doing it faster, actually.
Although Elon Musk's fortune of $271bn outstrips that of Sam Bankman-Fried by 10 times, it took Sam much less time to get there. Elon reached millionaire status at age 27 in 1999 and surpassed $1bn 14 years later…
Sam started trading crypto in late 2017 and launched FTX in 2019. Within 4 years he amassed a fortune in excess of US$26 billion. This is a common theme when comparing the two groups. See why some people (us!) believe that in time the crypto rich list will dominate the definitive rich list.
https://global-uploads.webflow.com/606076d78f6b1c80e91a9a0a/60d233063da7f05a3e4e4060_Bankman-20.jpg
Top 30 under 30
The crypto game-changers are coming and no one can stop them.
The Forbes list highlighting the Top 30 under 30 confirms that a wave of influential crypto tycoons will keep rising in the rankings of the global elite.
Traditionally, the Top 30 under 30 has been dominated by the music, film and sports sectors, with a sprinkling of banking and technology. In recent years a new breed has muscled their way in.
They are younger, richer, and they are in a hurry. They are not waiting for an invite to the top table. They are taking their seat..

"We eat, sleep, and breathe Bitcoin." – Tyler Winklevoss.
Is the rise of the crypto billionaires sustainable? The top 10 have one thing in common. Longevity.
Will the crypto elite have the same longevity? Their current rate of wealth accumulation could see them far exceed the fortunes made by the current Top 10. With the further growth, development and adoption of crypto there is every chance they will.
The question is, who will be the first trillionaire?
"With great ideas come great changes. Bitcoin is that." – Cameron Winklevoss
Banter wisdom
Who can become a crypto billionaire? An industry-changing idea and the conviction to implement it, makes the road to elite status shorter than in any other industry. Five to 10 years ago there wasn't even a crypto sector, let alone any candidates for the rich list. By 2020, crypto had generated 11 of the Top 30 under 30. In 2021, crypto billionaires took up 21 out of the 30. This makes the industry very difficult to ignore.
We cannot predict the future, but one question everybody should be asking is 'Can I afford not to be in crypto right now?'.
*Data on these charts was correct at 12 January 2022, midday, GMT.