What is the Avalanche Multiverse?
On Tuesday, March 8th, the Avalanche Foundation announced a new incentive program worth millions of dollars in order to stimulate new developments on the Avalanche blockchain.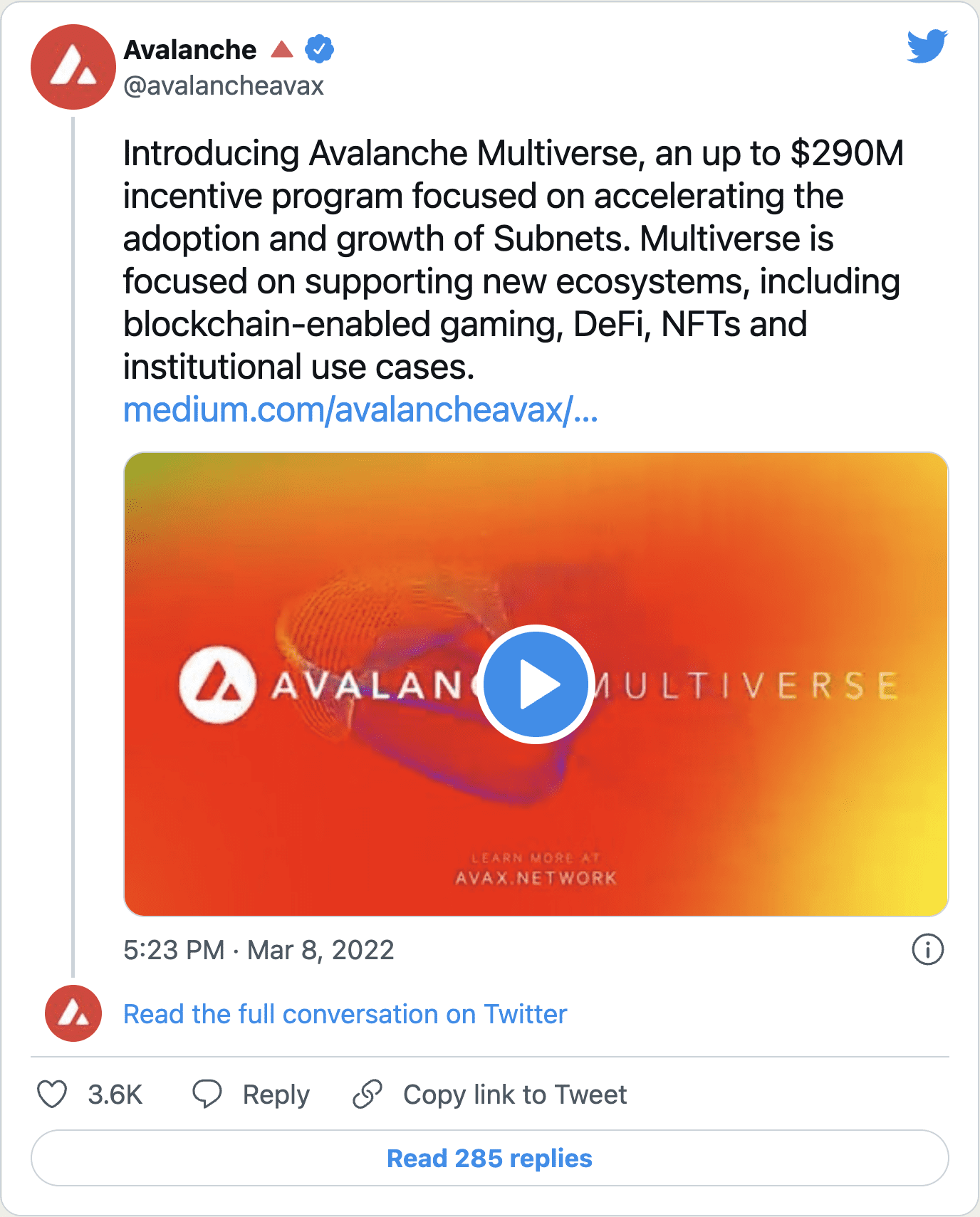 The Multiverse Program will be funded with 4 million AVAX (currently worth around $290 million) with a focus on "accelerating the adoption and growth of its novel "subnet" functionality, which enables a rich ecosystem of scalable app-specific blockchains."
This will include support for new ecosystems including, but not limited to, blockchain-enabled gaming, decentralized finance (DeFi), non-fungible tokens (NFT), and institutional use cases.
What is a Subnet?
This entire incentive program is focused on the development of AVAX Subnets.
But what exactly is a Subnet?
According to The Avalanche Support Page:
A Subnet, or Subnetwork, is a dynamic set of validators working together to achieve consensus on the state of a set of blockchains. Each blockchain is validated by exactly one Subnet. A Subnet can validate arbitrarily many blockchains. A node may be a member of arbitrarily many Subnets.
A Subnet enables virtually anyone to build their own Layer-1 or Layer-2 blockchains using the Avalanche infrastructure.
These subnets can have their own unique consensus mechanisms (proof-of-work, proof-of-stake, etc.) and they can also be public or private.
Subnets can also support KYC requirements for users, a feature that will likely be attractive for institutional use cases.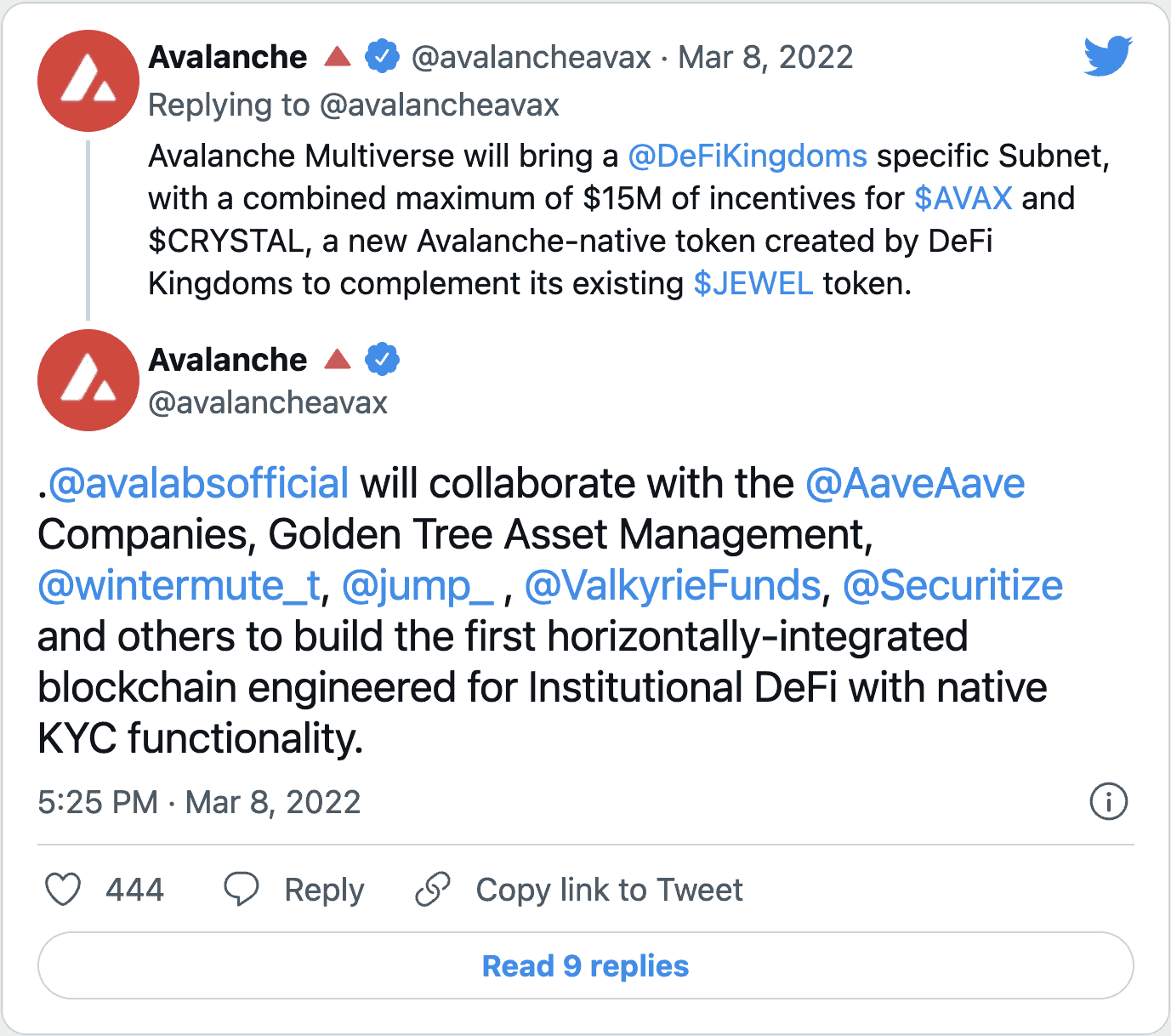 One of the first use cases will be a specific subnet for DeFi Kingdoms with a combined maximum of $15M of incentives for AVAX and CRYSTAL, a new Avalanche-native token created by DeFi Kingdoms to complement its existing JEWEL token.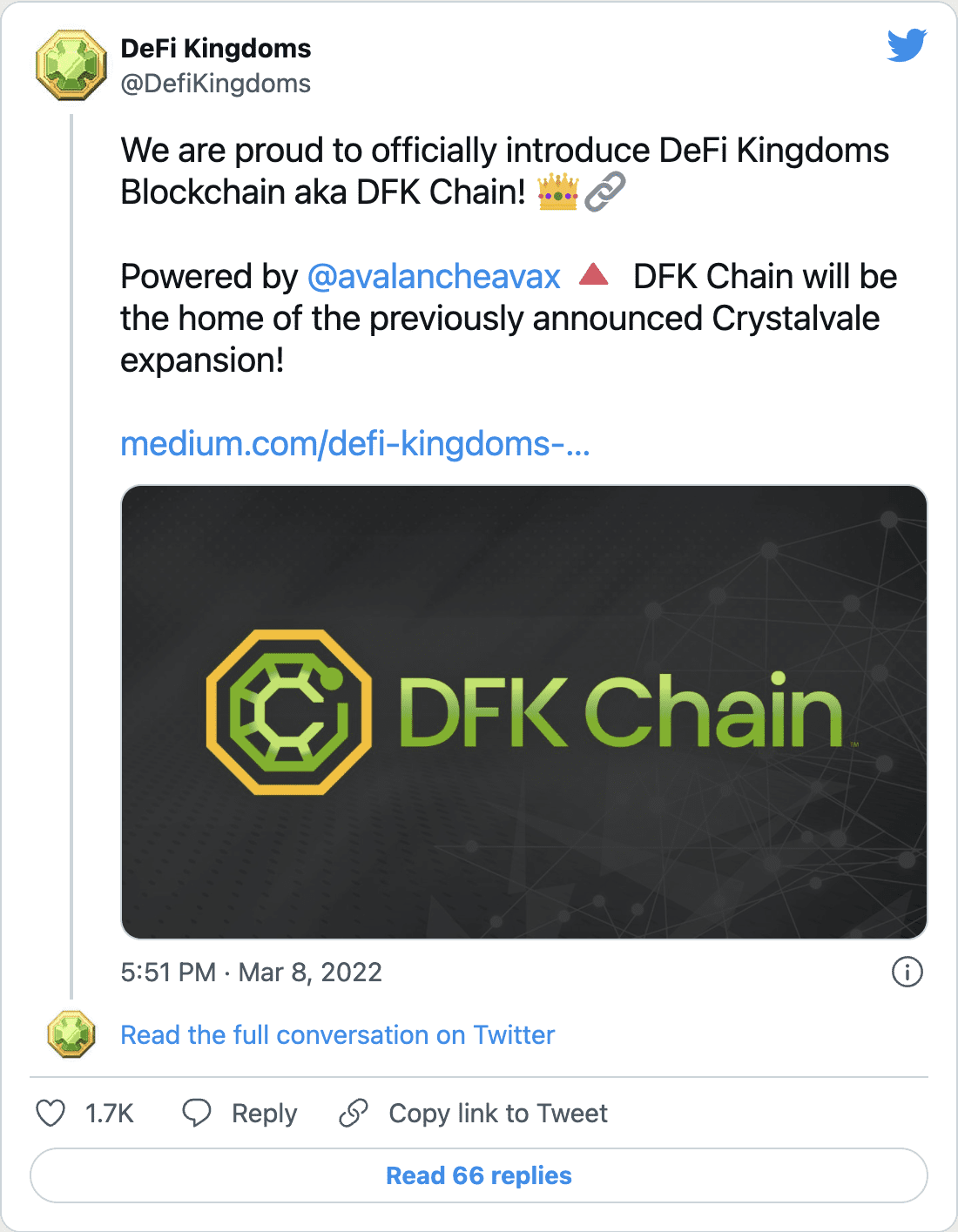 The market sentiment seems to be bullish on the development of subnets for the Avalanche ecosystem.
All custom subnets must stake at least 2,000 AVAX in order to validate the network. This will create more buying pressure on the native AVAX token as more subnets are developed.
Avalanche Subnet Breakdown
The development of subnets could be the bridge we have been looking for to link traditional finance with decentralized finance.
"Avalanche Subnets enable us to create an ideal environment for institutions to migrate on-chain and experience the power of DeFi protocols first-hand as users rather than just as investors," Stani Kulechov, founder and CEO of Aave, said in a statement. "This is a significant leap toward a future where the barriers between traditional and decentralized finance cease to exist."
Time will tell how beneficial subnets are for Avalanche, but this is the kind of innovation you hope for from an alternate Layer-1 network.
The importance of incentive programs
Incentive programs have been crucial in the development and growth of Layer-1 blockchains. Avalanche is no exception.
In August of 2021, Avalanche announced Avalanche Rush, a $180M liquidity mining incentive program to introduce more applications and assets to its growing DeFi ecosystem.
This program spurred a new wave of DeFi growth on Avalanche.
Since launching on August 18, 2021, total value locked (TVL) on Avalanche has increased from $312M to almost $16B, with unique addresses growing from 137k to 2.2M, and transactions soaring from 4M to 112M.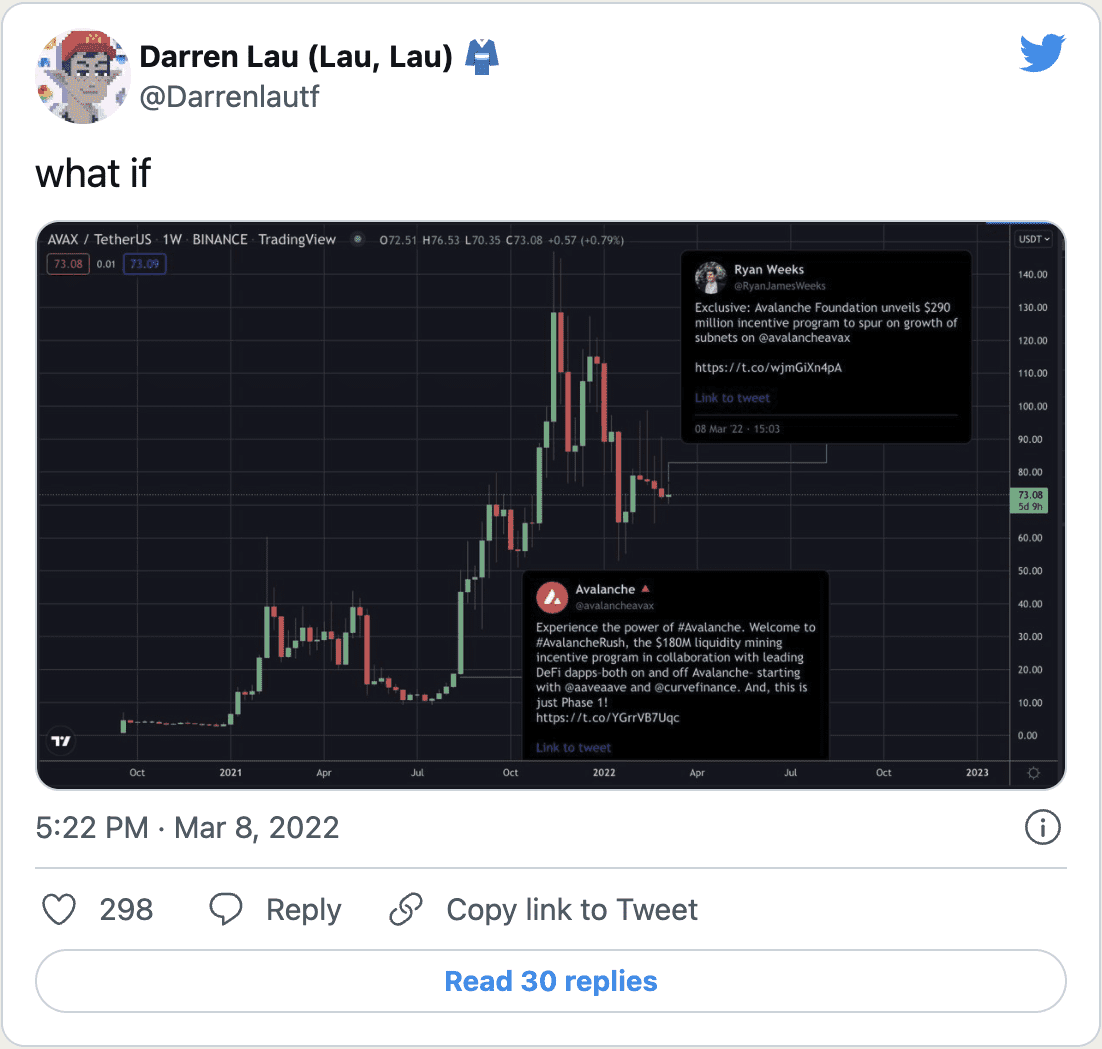 If history were to repeat itself, we could see a huge increase in price for AVAX.
Of course, market conditions are much harsher now than in August 2021, so it is unclear if this new incentive program will have the same positive impact as Avalanche Rush.
How to profit
Not financial advice
If you are bullish on the Avalanche ecosystem with the news of Avalanche Multiverse, having exposure to AVAX in your portfolio is the simplest way to profit.
AVAX has seen an 8.9% increase in price since the news of Avalanche Multiverse was released. It is currently trading at a price of $79.02 at the time of this writing.
AVAX Price Chart
With $15 million in incentives reserved for AVAX and CRYSTAL on the DeFi Kingdoms Subnet, we could see a boost in the price of CRYSTAL and JEWEL, which will be the gas token for the DeFi Kingdoms Subnet.
The DFK Chain and Crystalvale will be launching on March 30th. That is certainly a launch to keep your eye on.
If you would like to front-run the launch of DFK on Avalanche, there is currently a JEWEL/AVAX liquidity pool on Trader Joe offering 43.69% APR.
JEWEL/AVAX Pool on Trader Joe
Final thoughts
Avalanche Multiverse is an exciting incentive program that is much needed considering the current crypto landscape.
It is by no means a guarantee that AVAX will see a significant price increase as a result of this program.
However, if you are bullish on GameFi and the Metaverse, Avalanche is leading the way in terms of adoption and technology to support the next wave of projects.
What are your thoughts on The Avalanche Multiverse incentive program? Are you bullish on AVAX or selling the news?
Want more?
I write about DeFi, NFTs and the metaverse every week for crypto investors like yourself. Sign up for my FREE newsletter.
Article contributed by Jacob Van