There's some major drama unfolding in the Frog Nation community right now. What happens next remains unclear, and at this point, there are more questions than answers.
But the long and short of it is people got REKT.
This is all still unfolding, and no doubt we'll have more for you later on.
Let's take a look at what happened, why it happened, and what the implications could be.
TIME fell below the backing price
Automated buybacks weren't executed
Loads of people got liquidated
Daniele Sesta is working to restore trust (and cover everyone's losses)
What went down
About 12 hours ago, this happened: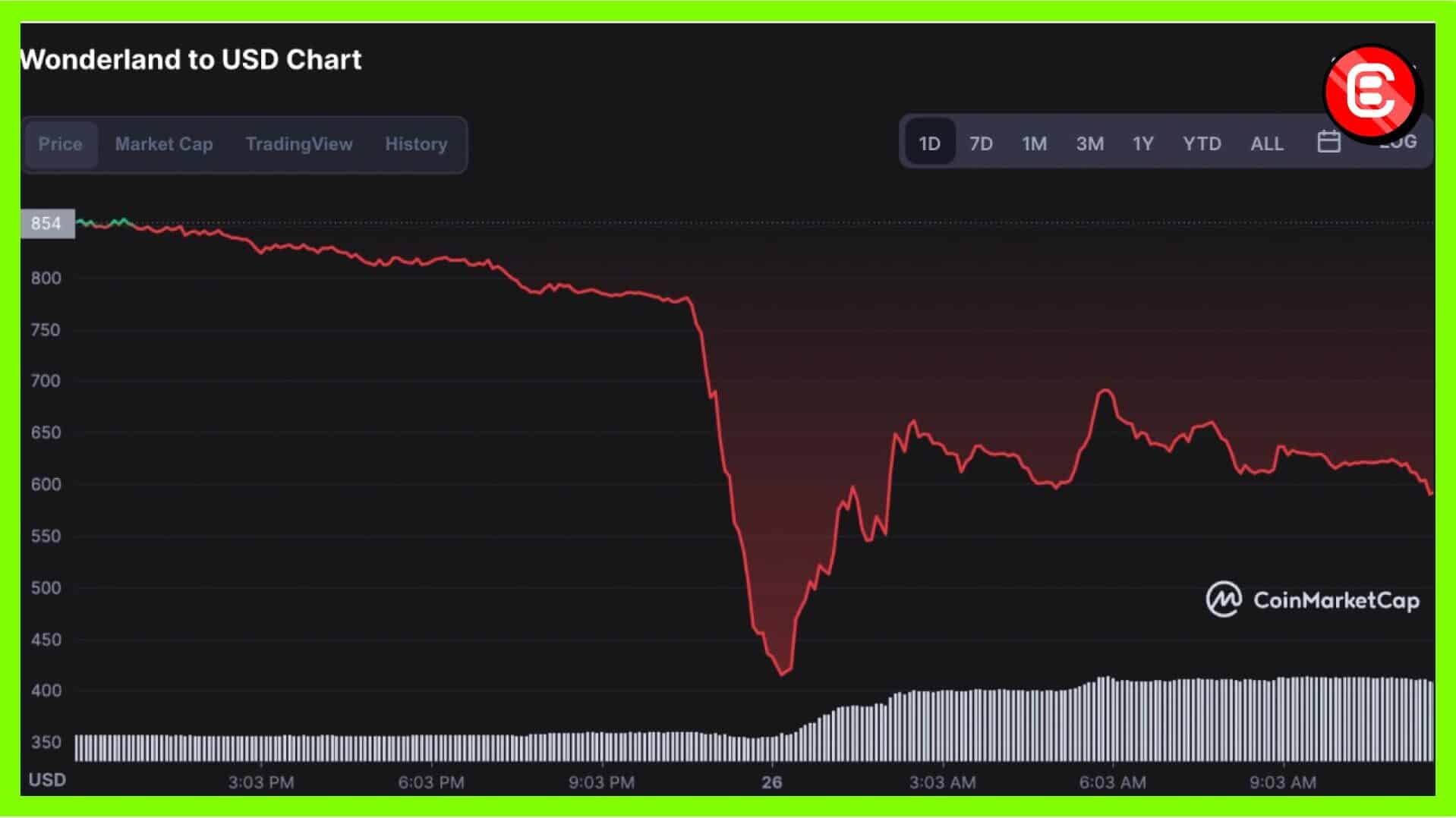 https://coinmarketcap.com/currencies/wonderland/
At around 18:00 ET, Wonderland (TIME) fell significantly below the backing price. Typically, automatic buybacks would have been implemented to push the price back up.
And they did, until they didn't.
Once the buybacks failed to go through, the price continued to fall (and fast!), triggering a significant liquidation cascade for leveraged wMEMO holders. (For context, wMEMO is a token that represents staked TIME as well as all of its rebases.)
Users can purchase Magic Internet Money (MIM) on Abracadabra using wMEMO as collateral. When TIME/MEMO prices drop and hit users' liquidation price, Abracadabra liquidates their position.
And a potential merger between Wonderland and Abracadabra has just been announced. 
Why weren't the buybacks executed?
It's the question many are asking, but the explanation appears to be pretty simple.
Having received assurances from Frog Nation's de facto leader, Daniele Sesta, that automated buybacks had been implemented, investors felt comfortable holding leveraged positions with a liquidation price set below backing price.
Problem is, these automated buybacks weren't foolproof, leaving operations vulnerable to attack from malicious actors.
Yesterday, the buyback bots had access to around $5 million to deploy. Clearly it wasn't enough. The result? They quickly ran out of funds.
Who's behind it?
Who knows, but it appears to have been a coordinated attack.
The buyback bots are automated, but their balances are controlled by two individuals, Daniele and the pseudonymous 0xSifu. Plus, funds are locked in a multi-sig wallet. Since both Daniele and 0xSifu are understood to be in Europe, it appears to be no coincidence, then, that these whale games took place in the middle of the night in Europe.
It can't have been an easy situation to wake up to.
Rectifying the situation
Pretty much everyone got liquidated. However, Daniele and Sifu have been clear: As they explained on the community Discord server, all victims will be "made whole" again.
In fact, the only people who won't be are Dani and Sifu themselves. Please have a moment's empathy for them: it was a very expensive night's sleep for them both.
Later, Daniele confirmed that they won't be covering the losses with treasury, but, "if anything", with "personal funds". How much anyone wants to read into the "if anything" element is up to them.
Angry frogs
There's a lot of furious frogs on Twitter right now, and while it's only fair to demand answers, it's also too early to point fingers.
Some people are crying foul play, and rumors have been swirling about alleged suspicious activity coming from Daniele's wallet address. But the team has by no means lost the trust of the wider community.
A more detailed response to the situation is expected imminently, as Daniele and Sifu are set to release a blog post later today to address any concerns. And note how it had originally been suggested treasury funds would be used, even though Daniele would later go on to say this would not be the case.
Still, there's a lot of FUD circulating on Twitter, and lots of questions to be answered. However, Daniele's standing in the space was not built on thin air. His reputation as a community builder is second to none, and unfortunate as the situation is, we're confident he'll restore trust once a clear and viable solution is presented.
Banter wisdom
First and foremost, be careful with leverage. We never encourage the Banter Fam to use it, and this is a case in point. Secondly, Decentralized Finance (DeFi) is unregulated, and all (but especially new) protocols are vulnerable to exploits. Whatever took place last night is just one of many examples. In terms of next steps, Daniele is the public face of the Frog Nation, and it's a responsibility he clearly takes seriously. He's also a builder. Wonderland's roadmap speaks for itself. The team is building a rich and complex DeFi ecosystem with a long term vision. Unfortunate as they are, mistakes do get made, and these kinds of situations are part of the process.