Solana has just blown past its nearest rival in a key metric.
The "Ethereum Killer" is making major moves, seeing rapid ecosystem and TVL growth, indicating strong support in the community.
Alt season is looming large and Solana is confidently navigating into an incredibly strong position.
Often dubbed the "Ethereum Killer", Solana has long been considered a potent force in the smart contract landscape – thanks to its low fees, high throughput, and scalability.
The smart contract platform has dominated several metrics in recent months, including user activity and developer counts.
It has twice the number of active addresses as Ethereum, and more than four times that of Cardano. It also counts among the top five blockchain platforms by the total number of developers.
But until only recently, it lagged behind Cardano in one key metric: its staked supply. That is, the proportion of its available supply that has been staked to help secure the network.
Cardano previously boasted the highest token percentage staked, but was eclipsed by Solana earlier this week, indicating a major shift in the narrative. While Cardano was frequently touted as the platform that would usurp Ethereum as the dominant smart contract platform, Solana might just beat it to the punch.
As per data from Staking Rewards, more than three-quarters of the Solana supply is now staked, earning participants an estimated 6.79% annual yield.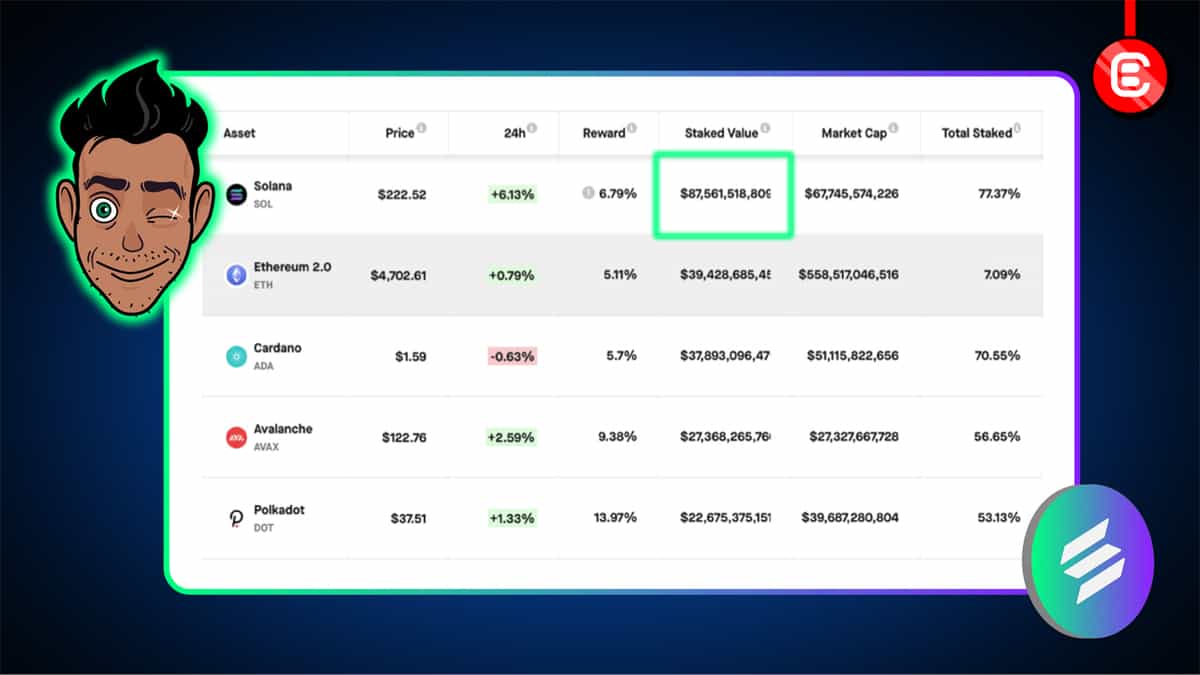 This leaves less than a quarter of the supply in circulation.
With SOL on an overt uptrend in the past three months, and ADA on a strong downtrend, this provides a strong indication that Solana is being favored as the great hope against Ethereum.
Solana is almost certainly benefiting from Cardano's repeated delays.
In combination with its ballooning staked supply, Solana has also seen rampant growth in its dApp landscape, with new DeFi primitives and protocols launching regularly on the platform.
This show of faith has also translated into increased activity on the network with several major Solana dApps, including Raydium, Serum, and Orca, having seen a dramatic increase in total value locked (TVL) in recent months — despite the major downtime that occurred in September.
It has even drawn the attention of the leading cryptocurrency asset management fund Grayscale, which recently launched a new trust that provides accredited individuals and institutions with exposure to SOL and Solana ecosystem projects.
Taken together, this paints a strong picture. All eyes are on Solana and its capabilities are being increasingly tested and recognized.
Banter wisdom
After the Solana mainnet beta first launched in February last year, developers were initially tentative about the platform.
Fast-forward almost two years, and Solana not only has the most value staked, but also the highest proportion of its supply staked. Not to mention market-leading developer and user activity.
Moreover, with institutions potentially set to gain exposure to the Solana ecosystem, momentum is surely moving in the right direction.
With alt-season just around the corner, Solana is looking poised to make quite the impact and a new all-time high is within easy reach.