Hustle just keeps on hustlin'.
Last week, he was crushing it in Miami. Today, he sat down with an absolute don – the brain behind the game everybody's talking about: Syn City co-founder, Roy Liu.
Excited about climbing the ranks in the mafia metaverse? You should be.
Let's unpack some of the key talking points!
Killer interactive gameplay
A booming in-game-economy
Mafia as a DAO
True cross-chain interoperability
The mafia community is thriving
The Copper launch has just ended (the fair-launch way to get in on the token before public trading). Did you fill your bags? These days, most games don't take this approach. But Syn City is different. They're doing things right by offering retail investors the chance to participate before going live.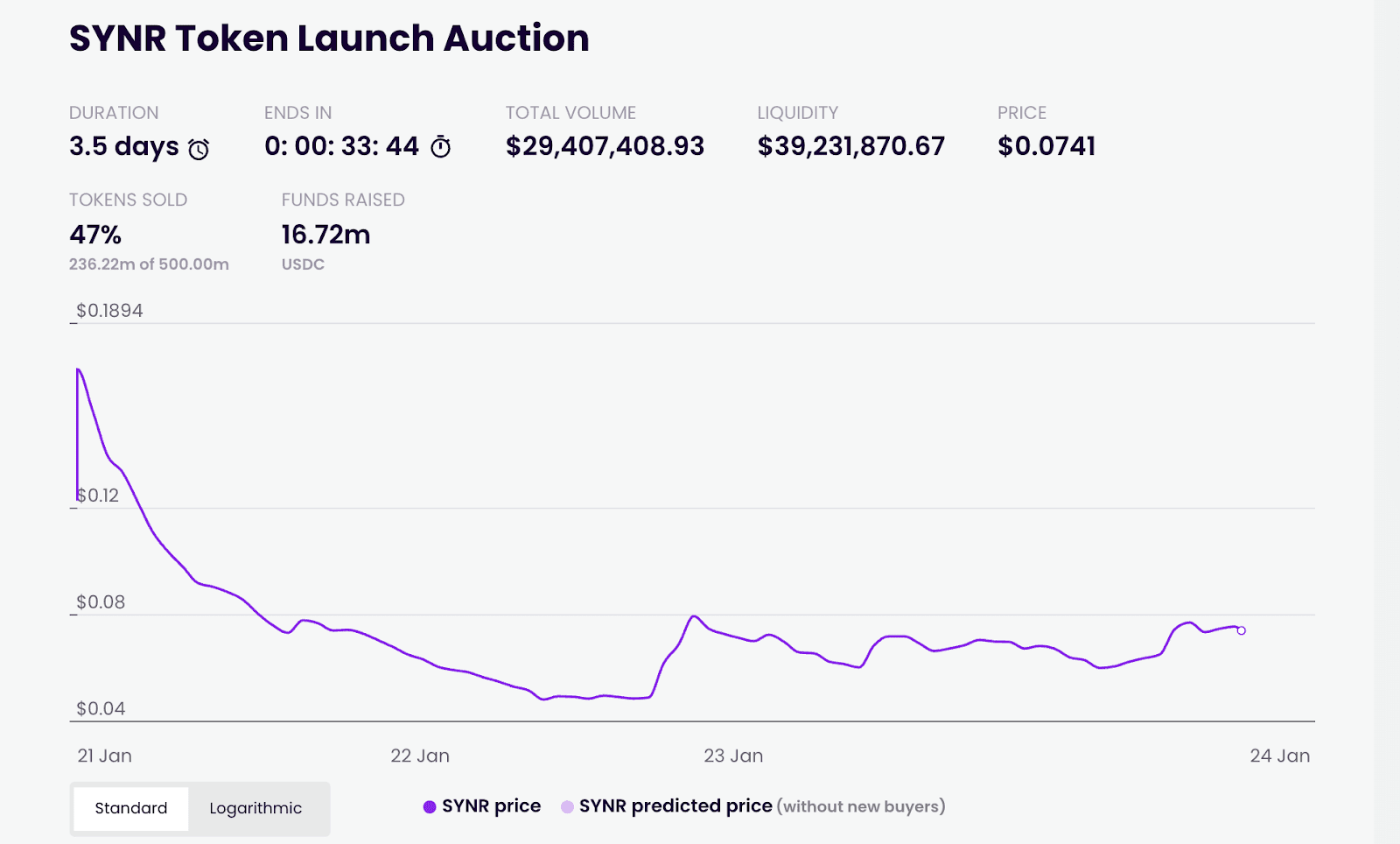 Source: https://copperlaunch.com/auctions/0xdda942bacbe6bd0c12e3ed2db45f0349e8c43101
Why so much hype?
Syn City has such monster potential because it's driving innovation across the board: gameplay, in-game-economics, tokenomics and some pretty unique systems of governance.
The gameplay looks dope
Hustle's clearly excited about Syn City's range of gameplay pillars, which include:
Player vs player
Player vs environment
Battles
Random events
Syndicate events
As he put it, it's like a Web3, blockchain combination of Grand Theft Auto and Saints Row. And who doesn't like the sounds of that?
Source: https://syncity.gitbook.io/syncity/gameplay
Roy touched on some of the core philosophy underpinning the game's development, and its primary focus on new models of consensus, not merely gameplay mechanics. Why? Because gameplay mechanics have a shelf-life. Eventually, players get bored (and move on). As Hustle said, it's why titles like Call of Duty have to release a new game every year to stay relevant.
Syn City, on the other hand, is raising the bar: Its real-time-card battler gameplay mechanics are just the tip of the iceberg. The real excitement comes from the scale of opportunity within the game.
Economy
As Roy said, the new generation of play-to-earn gamers are drawn not just to gameplay, but to the asset within. Accumulation is the key focus, and Syn City is elevating the existing models by offering a range of revenue streams:
1: Grinding assets into appreciation (through daily events, PvE tasks, and PvP tasks)
2. Participating in the mafia economy as a capitalist!
Here's the key differentiator: Where other games come with selling-pressure for in-game-assets (dumping tokens on the open market!) Syn City incentivizes players to earn yield on their tokens (SYNR) in the mafia economy. In other words, DeFi Kingdom meets Goodfellas.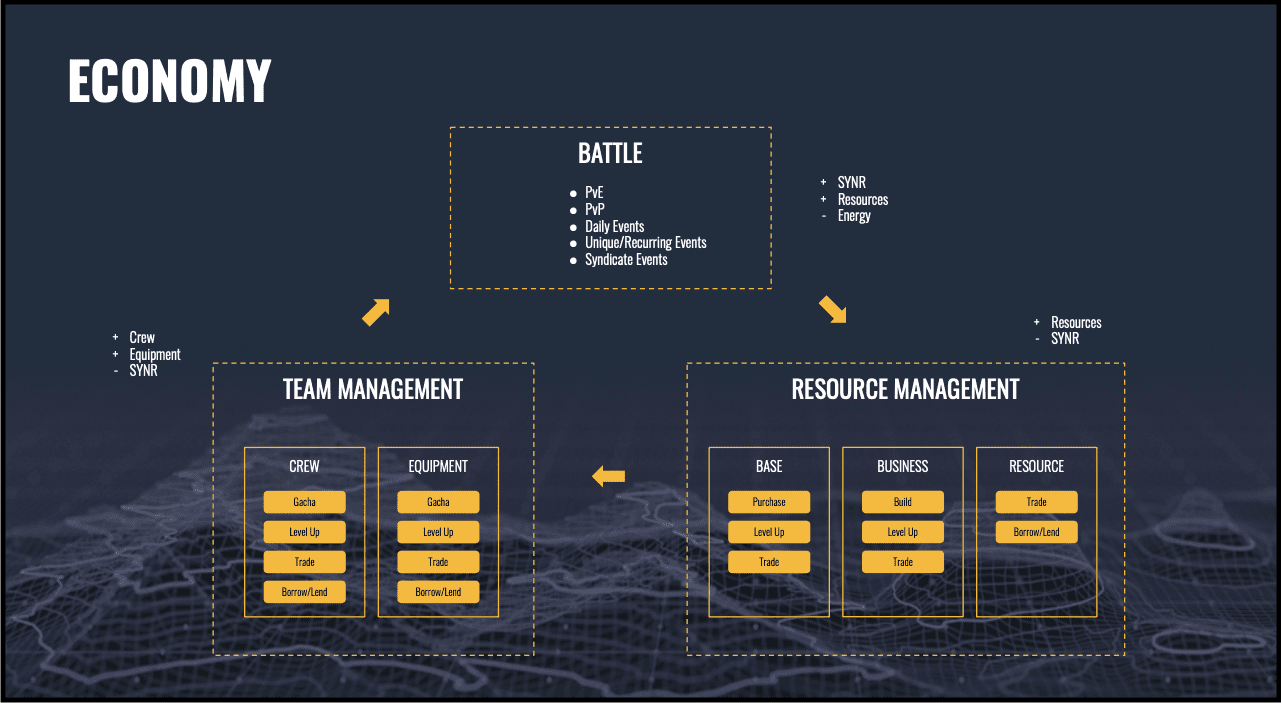 Source: https://syncity.gitbook.io/syncity/economy
Mafia as a DAO
At the heart of all this is Syn City's system of governance: Mafia as a Decentralized Autonomous Organization (DAO). As Roy said, a lot of existing DAO's operate on a 'yay or nay' kind of basis. Let's face it, they can be boring. Here, users can stake their SYNR to generate power (SYNR-POWER) to be delegated to a syndicate leader. Crucially, only the top seven syndicate leaders get a seat at the high mafia table(the DAO committee) – in effect, becoming the Godfathers of the game.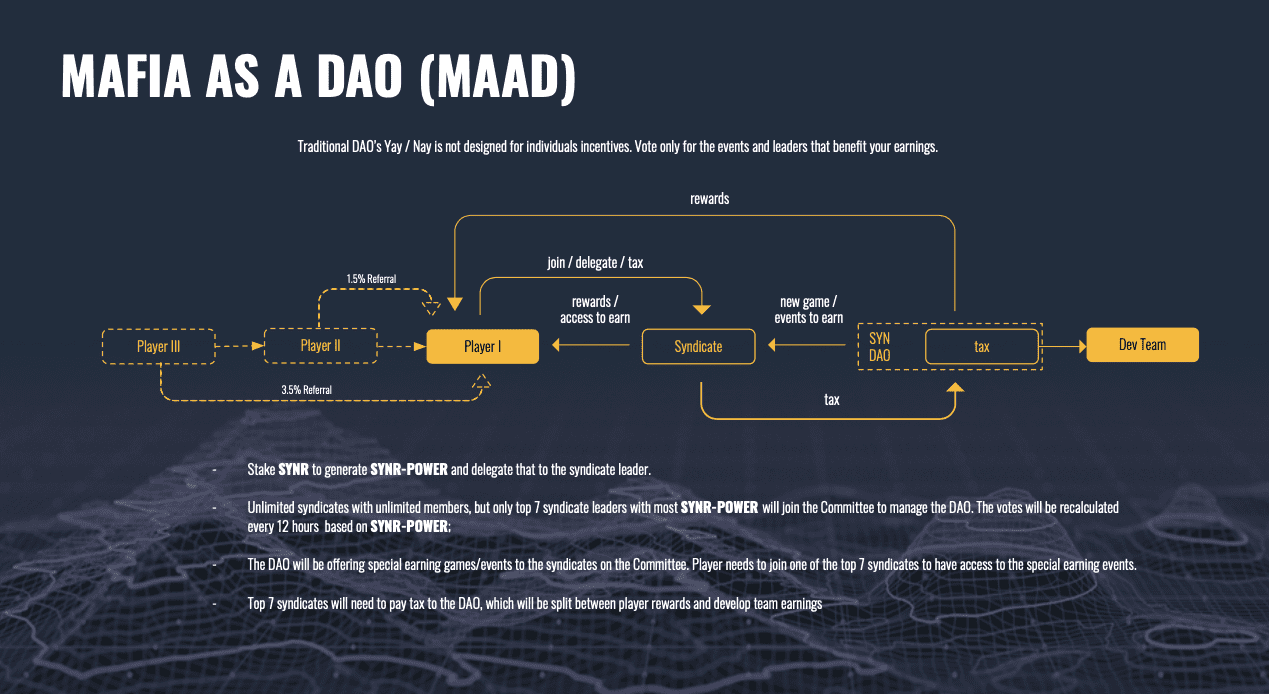 Source: https://syncity.gitbook.io/syncity/mafia-as-a-dao
Being part of a syndicate creates a feedback loop between the dons and their soldiers, since the mob bosses are incentivised to distribute rewards to the very people whose trust they've earned. And of course, they can collect taxes along the way. It's classic mafia stuff… in the form of a DAO. You gotta love it.
Heist, anyone?
Syn City is taking gamified Decentralized Finance (DeFi) to the next level by allowing syndicates to attempt heists. If your rivals are earning yield on their staked tokens (and you've got the wits and firepower to pull it off) you can kick the doors down and steal the rewards (not the principal funds!). Don't worry, you can't lose your hard-won money to rival syndicates. But stealing the yield is fair game.
The solution? As in the real world, syndicates need to invest in a strong, dependable team of henchmen and mercenaries able to defend against potential attacks! And it's not just SYNR that's up for grabs, as Syn City also allows its users to dabble in other assets – not all of them legal, either. Hustle wasn't quite sure (…or was he?) what Roy meant when he said users could farm 'vegetation', or synthesize 'powders', but suffice to say, it sounds like the narcotics trade is alive and well in the mafia metaverse. Players are free to level-up their businesses, whether illicit or not!
Cross-chain mafia wars
Syn City aims to become a truly cross-chain game, fully interoperable between all Layer-1's. How? Because it's blockchain agnostic, meaning a Solana-based syndicate can battle it out with an Ethereum-based syndicate in the same way Xbox and Playstation users might meet in the trenches of Call of Duty.
Source: https://syncity.gitbook.io/syncity/cross-chain-mafia-wars
As Hustle said, this is huge. Most games live on a single chain. If Syn City can pull it off, they'll be opening the floodgates to an incredible amount of transaction volume. Users who might have a preference for a particular chain will be free to play irrespective of whether they're on Polygon, Binance Smart Chain, or Avalanche. It's hugely ambitious – something we've never seen properly executed before, not least for such a huge project.
Roadmap
Hustle did his best to get an answer, but even he couldn't convince Roy to drop an official launch date live on air. But, Phase 1 is coming! And the goal is to release a new module every quarter. So far, all the major milestones are still on track.
Source: https://syncity.gitbook.io/syncity/roadmap
Banter wisdom
Wow, what an interview (Hustle's first for the channel!). This recap only scratches the surface! In case you missed it, don't worry – you can watch the full interview here. But one thing is clear: Roy and the team are building something special, and from all angles, Syn City looks ready to live up to the hype. Hustle's excited. We're excited. You're excited. Even Kylie Jenner is excited…