Astroport, Terra's first fully-fledged decentralized exchange, is almost ready to launch.
With a crucial piece of Terra's DeFi infrastructure set to launch, demand for UST and LUNA burns are set to skyrocket.
The initial ASTRO token circulating supply will be given away to early TeFi chads and liquidity providers.
The Terra ecosystem could be gearing up for its next big wave of growth, thanks to the upcoming launch of its first layer-1 incentivized DEX – Astroport.
Despite being built for financial applications, Terra's first real community-owned DEX has been a long time coming.
But the wait is now almost over; Astroport is just weeks away from launch.
The platform is designed to provide a hub for Terra-based assets (LUNA and CW20 tokens) and could become what Uniswap is to Ethereum: a game-changer for the Terra DeFi landscape.
We expect the DEX to play a crucial role in fuelling the growth of the Terra DeFi ecosystem, by providing a liquidity backbone for a range of new and existing DeFi projects and protocols.
Inevitably, this will drive up demand for TerraUSD, as users look to make use of these platforms, requiring stacks of LUNA to be burned.
More LUNA burned = reduced supply = increased scarcity = increased value. In other words, a big pump is likely looming.
As Crypto Man Ran said, December is going to be LUNA month. And the price is already smashing through successive all-time highs.
The Astrodrop
As a fair launch project, Astroport is set to distribute a whopping 110 million ASTRO governance tokens to the community to help bootstrap its liquidity and userbase.
The lion's share of the ASTRO reward pool will go to users who commit liquidity to the protocol as part of its lockdrop.
Like most DEXes, liquidity providers will also earn a proportion of the platform's trading fees.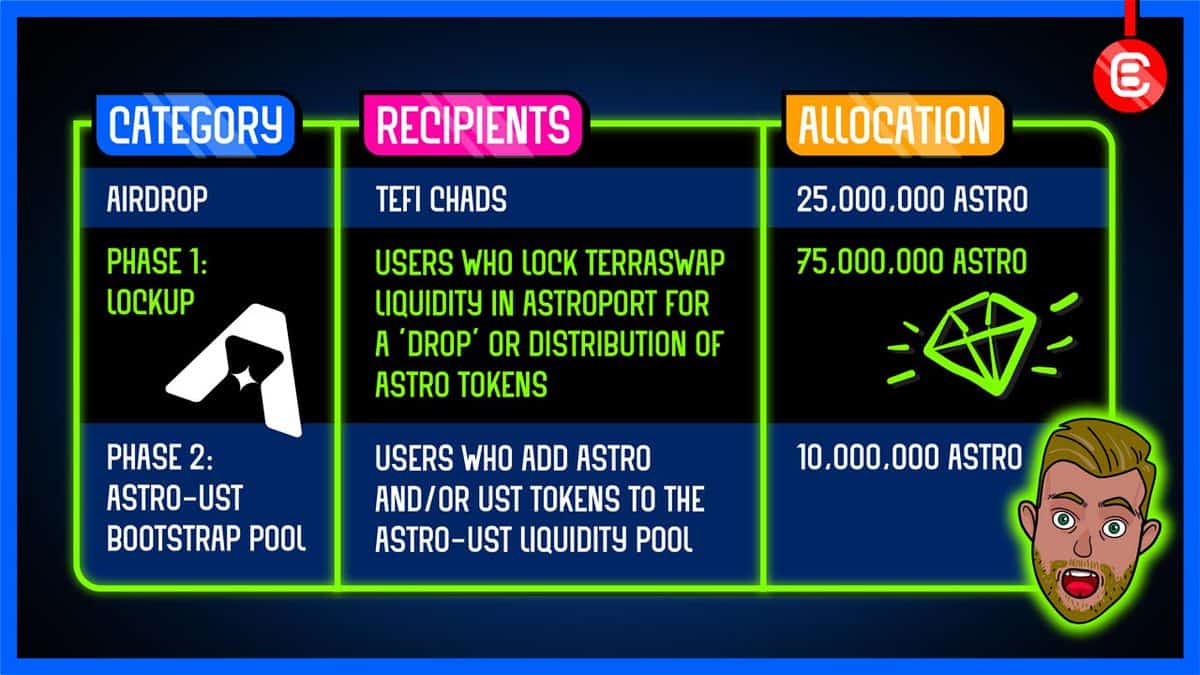 But if you're a LUNAtic like us, you can also expect an ASTRO airdrop. Don't go selling it too quickly though – similar launches have favored long-term holders.
Click here for the full details on the Astrodrop.
A better DEX
Although Astroport isn't the first DEX on Terra, it is arguably the most capable. It brings to the table new features like Terra's first liquidity bootstrapping pool (LBP) and support for a variety of new curves to increase efficiency.
In essence, if Balancer, PancakeSwap, and Curve had a baby, they'd name it Astroport.
But without a doubt, its main USP is its community governance. Holders of the ASTRO token will have their say over how the platform operates and develops.
Terra founder Do Kwon even went as far as to say it'll be the "clearinghouse for the interchain".
Yep, not just Terra, but the entire cross-chain ecosystem. We have to say, we agree.
In line with its goal to provide a secure source of liquidity for all things Terra, the platform just launched a generous bug bounty program. This will see whitehats rewarded with up to $1 million for uncovering and reporting threats.
The platform is currently set to launch on 20 December 2021. Mark the date in your calendar — early movers almost always fare the best.
Banter wisdom
The launch of a much-anticipated DEX on any blockchain is generally considered a bullish signal, since launches often go on to form the basic pillar of a more complete DeFi ecosystem — which will eventually grow to include yield farms, liquidity aggregators, synthetics, and insurance platforms.
Given that UNI and 1INCH were distributed to early Uniswap and 1inch contributors, and both tokens went on to appreciate considerably post-launch, the future looks promising for Astroport and the Terra ecosystem as a whole.
But more than this, with the entire LUNA ecosystem set to become more fleshed out, now seems like an opportune time to reinforce those LUNA bags.