There was a general consensus that we would expect fireworks at the end of last year. And technically, we did get a brief explosion in early December. To the downside. One month on, Bitcoin continues to range in a sideways channel.
A sideways market = the quiet before the storm
Bitcoin dominance is collapsing – will it reverse?
Technical indicators point towards an upcoming move
On-chain metrics too!
Remember, Bitcoin doesn't like to move sideways. It needs direction. But before deciding which way to go, it likes to bore market participants to the point of disinterest. Then, BAM!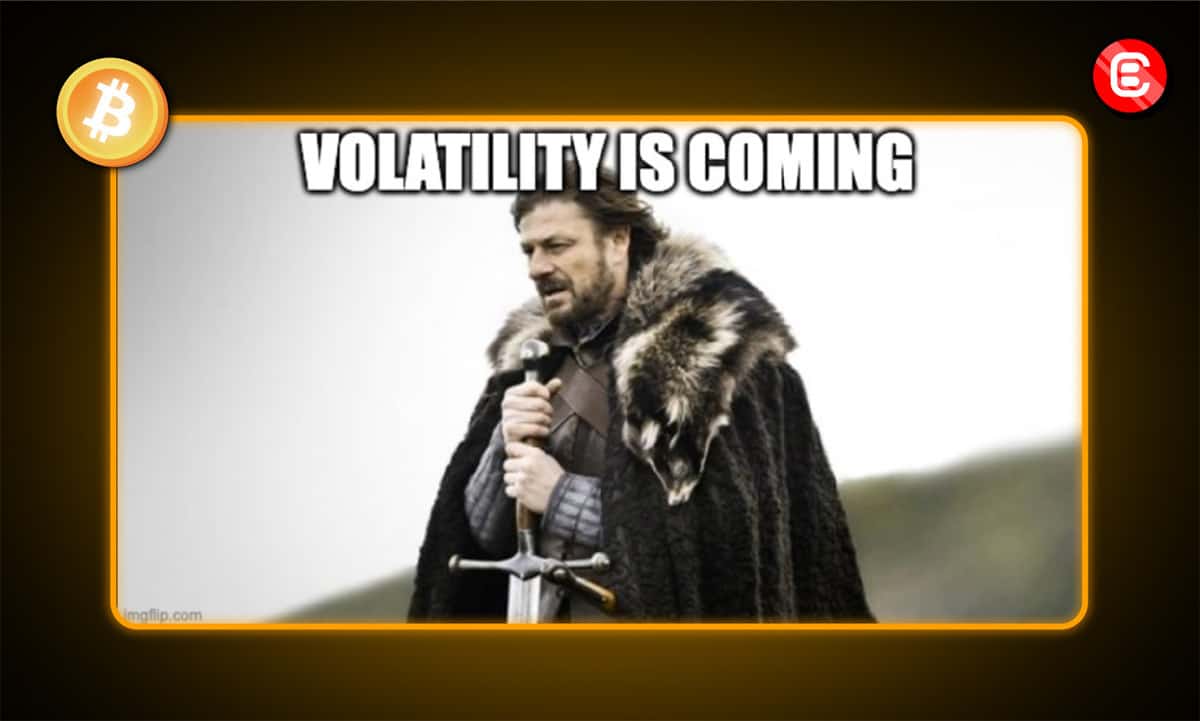 The question isn't if, but when, and in what direction?
Let's dive in.
Follow the technicals
Bitcoin dominance
As Sheldon explained in the show this morning, Bitcoin is in accumulation mode, having ranged sideways ever since it decided to ruin PlanB's year. Take a closer look though, and you don't need to be a master chartist to see that each and every little dip is being bought up by diamond hands.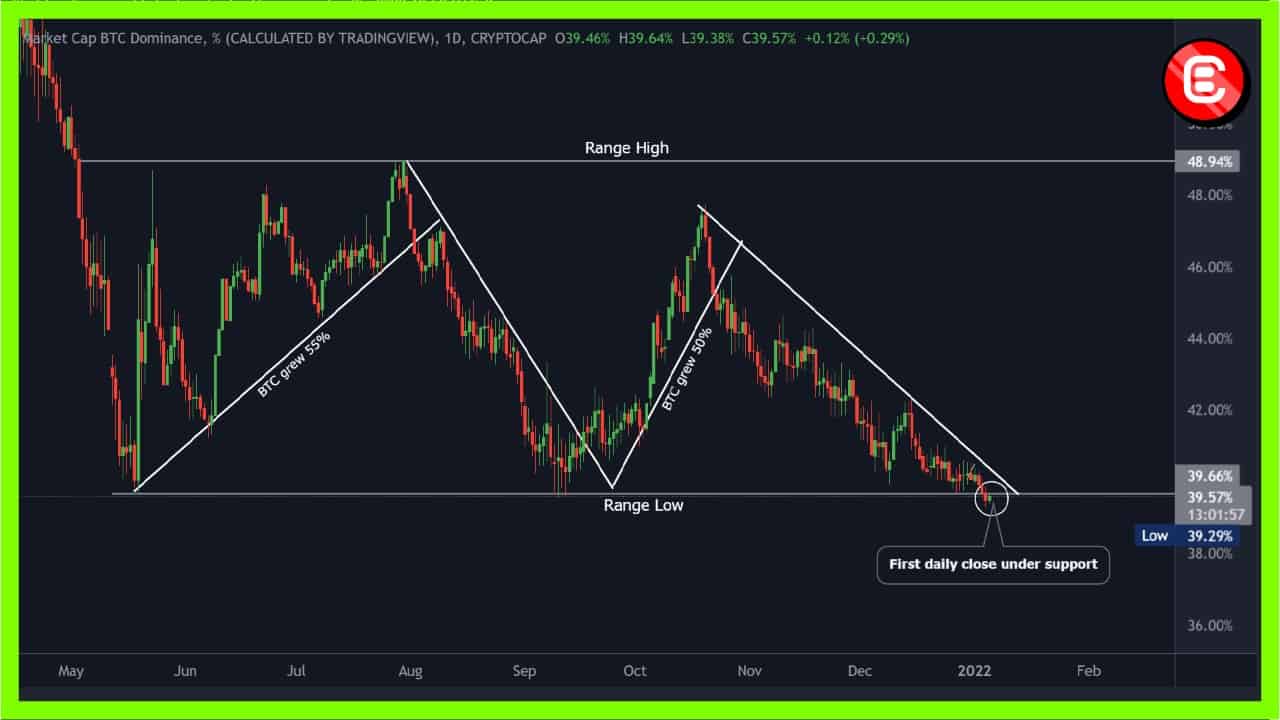 Further, dominance is sweeping the lows. In fact, it has broken the trend. But Bitcoin isn't a pushover – chances are high it'll fight back and assert itself. Will it reclaim support? We'll have to wait and see. And there's a clearly identifiable pattern here: dominance has never hung out in the low 40% range for long. So watch that horizontal trend line for a breakout!
That's not the only bit of TA suggesting imminent volatility. As the Banter Fam will know, you should always look for consensus across a range of technical indicators.
Volume
Just check out the blue line across the volume bars – it's a moving average. You can see that a break of the line tends to come with major price action. On 6 December 2021, volume smashed through as Bitcoin plummeted. Yesterday, volume crossed above the moving average and price fell only a smidgeon.
And here's the good news. Today, we're seeing a bullish engulfing candle on almost zero volume: it looks like the bears are beginning to lose steam. They're having to work super hard to bring the price down, only for the bulls to reclaim with ease.
Bollinger Bands
As a final technical indicator to keep an eye on, we suggest the trusty Bollinger bands.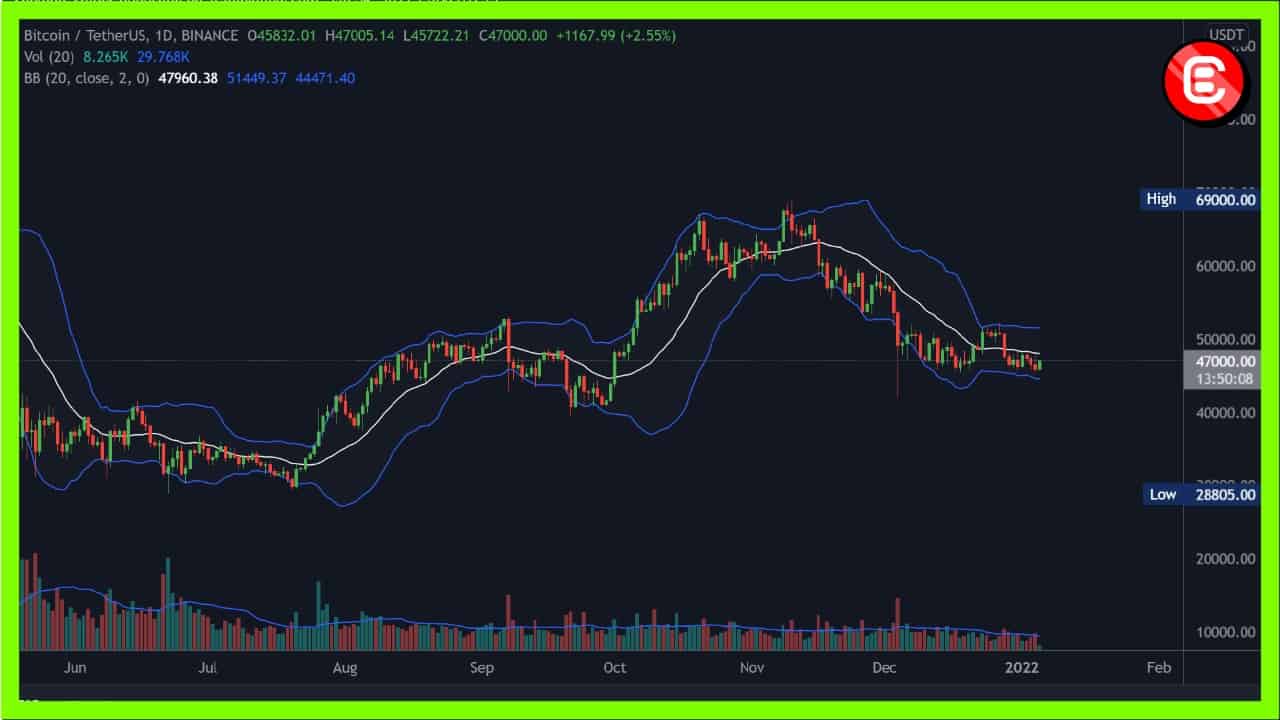 Bollinger bands represent a relative price range, and they like to expand with volatility. As the market settles into accumulation, they begin to tighten and tighten. In the past few days, Bitcoin's been moving between $45k and $48k. So we can expect the Bollinger bands to narrow further. But at some point, we're going to move out of this sideways pattern: a break of the upper or lower bands will confirm the direction. Either way, it's coming!
The on-chain metrics align!
On-chain guru and world's smartest nine-year-old Will Clemente agrees, calling for a volatility squeeze by the month end.
Yep, the TA and on-chain metrics are all beginning to align, with Will also pointing out:
Meanwhile, TechDev is dishing out some high-grade fractals, pointing to the convergence of key trend lines, and the uncanny historical similarities between current sideways price action and September 2020, when an upside move kicked off an unforgettable bull run. History doesn't always repeat itself, but it tends to rhyme!
Clearly, some unfortunate whale had other ideas. They tried to outsmart the market in the hope of inciting a long liquidation cascade, shorted the bottom, and were immediately forced to cover their positions. That's why we got the candle! REKT IN PEACE!!
Truth is, the market has yet to decide a direction, and that poor whale learned the hard way. For now, it's accumulation time with no specific trend; but make no mistake, a violent move is imminent and best you be prepared for it!!
But accumulation precedes action. It's the quiet before the storm. And while we all hope for volatility to the upside, we can't allow emotions to cloud our judgement. A downside move is by no means off the table. Why? Because leverage is high.
The highest it has been in history..
Games of Trades knows only too well: volatility is coming.
Crazy levels of open interest are very reliable on-chain leading indicator! Sure, that doesn't mean the move won't be to the upside, but look at the data: historically, these levels get flushed out, so we have to pay close attention to the possibility of yet another shakeout event. When leverage remains high, it almost always means a big move is imminent.
Banter wisdom
From TA to the on-chain metrics, all signs are pointing firmly towards a major volatility squeeze. January is shaping up to be an action packed month! While it's too early to call the direction, keeping a close eye on some of these indicators can help you plan and position yourself accordingly. Prepare yourself for both. Manage the downside risk with tight stop-losses, have stablecoins ready to deploy on any Altcoin bargains, and remember, do not use leverage in these conditions!