While Hustle is soaking some rays in Miami (we're glad he's loading up on Vitamin D!), we thought it'd be a good idea to check in with him to ask a multi-billion dollar question: How to explain the unprecedented success of Animoca Brands?
How has the company managed to achieve so much (and become so influential) in such a short space of time? And, crucially, what can the Banter Fam learn from them?
As usual, he had plenty to say!
Get your notepads ready, people. This one's brimming with alpha.
Visionary leadership
High conviction investment thesis
All-encompassing strategy
God-tier execution
Animoca Brands. If you're reading this article (and you watch Hustle's show!), chances are you're familiar with the name. Even if you're not 100% sure why, you also know it's synonymous with quality. For a gaming or metaverse project, being backed by Animoca Brands isn't just a badge of honor, it's also the ultimate stamp of approval! There are no guaranteed successes in crypto, but having Animoca Brands behind you is as close to one as you're ever gonna get.
Let's start with the mastermind. The wizard behind the curtain! This guy.
Yat Siu might look like your friendly neighborhood guitar teacher, but don't be fooled. He's a visionary, a genius investor, and all-round one of smartest people in the world. He understood the scale of opportunities in crypto gaming, metaverse, and Web 3.0 long before most, showing the kind of conviction that comes with a unique ability to see around the corner.
In Animoca Brands, he's built one of the most impressive venture capital companies around. It is hands-down the industry leader in branded blockchain gaming and metaverse projects.
As Hsaka described it, Yat Siu has created a monster – in the best possible sense. Animoca Brands is a behemoth, and one of the most stunning successes in crypto today!

Uncovering the secret sauce
Let's take a look at Animoca's investment portfolio and see what we can learn from it.
First things first: don't worry if your own portfolio isn't as extensive as Animoca's. Quite the opposite. If you're invested in this many projects, it's probably time to reassess your life choices.
Remember, Animoca Brands has seriously deep pockets. Chances are, you're not in quite the same league. So unless you just happen to be a Moby Dick-sized whale, you'd have to be nuts to diversify your investments to this level. For the average retail investor, over-diversification can be one of the worst mistakes to make!
Instead, pay attention to the areas Animoca is allocating in: that's over a hundred projects split up across 10 different subsections!
Games galore
Yep, games represent a huge chunk of Animoca's holding, and some of them have delivered outsized returns in the past 12 months:
5X for the Sandbox and Decentraland
537X for Bloktopia (from pre-sale prices)
1000X for Axie Infinity (Animoca was an original seed investor)
But while Animoca is backing some of the biggest games in the space, you'll see the team is also throwing weight (and money) behind plenty of lesser known projects.
Ever heard of Cradles? Nope, neither had we. But here's the point: Animoca isn't trying to hand-pick winners. Instead, the team is willing to cast a wide net in the hope of catching a few giant fish.
You're thinking you should probably do the same, right?
Absolutely not, says Hustle.
No way.
Mimicking Animoca's strategy as far as game selection is concerned would all but guarantee to get you rekt! Why? Because you'd be spread too thin. Animoca can afford for 90% of these projects to fail. You can't. These guys got in at seed or pre-sale prices, so the potential returns from just a handful can easily make up for losses across the board.
Your pockets aren't that deep. So invest in the picks and shovels!
Infrastructure
Infrastructure plays are a significant part of Animoca's investment strategy, and they should be a central focus of yours. As Ran always says, investing in the picks and shovels is one of the smartest moves you can make.
Rather than betting on one particular gaming project, invest in the protocols that make gaming possible. In other words, you're betting on the future success of the space itself. Remember who made the most steady gains during the gold rush? The guys selling the mining equipment!
It's exactly what Animoca is doing. By investing in NFT and gaming-centric plays like Immutable X, Polygon, and Flow, Animoca is banking on the infrastructure of gaming to deliver solid returns over time.
Immutable X is a prime example. This year we will see the team launching major titles such as Illuvium, Ember Sword, Guild of Guardians, and Gods Unchained on the Animoca platform! How's that for an impressive lineup of games?
Guilds – a safe haven?
If you checked out Hustle's top guild tokens in Monday's piece, you'll notice that literally all of his top guild picks have one thing in common: Animoca Brands. You'll also know why Animoca is so bullish on them; in short, because guilds will play a pivotal role in developing (and nurturing) gaming communities.
And communities are the foundation on which successful games are made. Think about it…by investing in a guild, you're also getting a stake in the future success of all the games in participation!
Risks vs reward
There's no denying that games can deliver great pumps. On the flipside, they can also deliver the most devastating dumps. Illuvium went ballistic in November 2021.
Now it's down 50%.
Source: https://coinmarketcap.com/currencies/illuvium/
As for Thetan Arena…
Source: https://coinmarketcap.com/currencies/thetan-arena/
Ouch! That's around 75% off the highs.
Point is, much as we all look forward to the gaming crypto decoupling, it sure hasn't happened yet. Being overweight in games and underweight in the picks and shovels could be a major regret!
Animoca Brands can afford to spread its chips across (literally) a hundred games. You're not Animoca Brands. Don't try to be. Instead, be super selective.
Pick far fewer games, and make sure you know everything about them before putting down your chips. And don't worry, Hustle's got a tried and tested methodology for you: The 8 Pillars of Gaming Success. Trust us, it's one of the most rigorous guides you'll find on how to pick out the most asymmetric gaming bets.
No thesis, no conviction
Yat Siu believes in NFTs and the metaverse. A lot. So much so, he's compared their growth with that of China. Inevitable! Animoca Brands is positioned to become a leader in the space because the team has placed high-conviction bets on the back of a deeply held thesis.
What's the takeaway? Build a thesis based on fundamentals, and follow through with high-conviction plays (in line with your tolerance for risk!).
Check out this chart.
What do you see? Does it seem like NFTs are set to overtake Grandpa Bitcoin in terms of search interest? Looks like a reasonable bet!
Do the on-chain metrics align?
Hustle says you need to develop a thesis. Just look at him, he's a walking example of someone who's living his thesis! This photo is just in from Miami!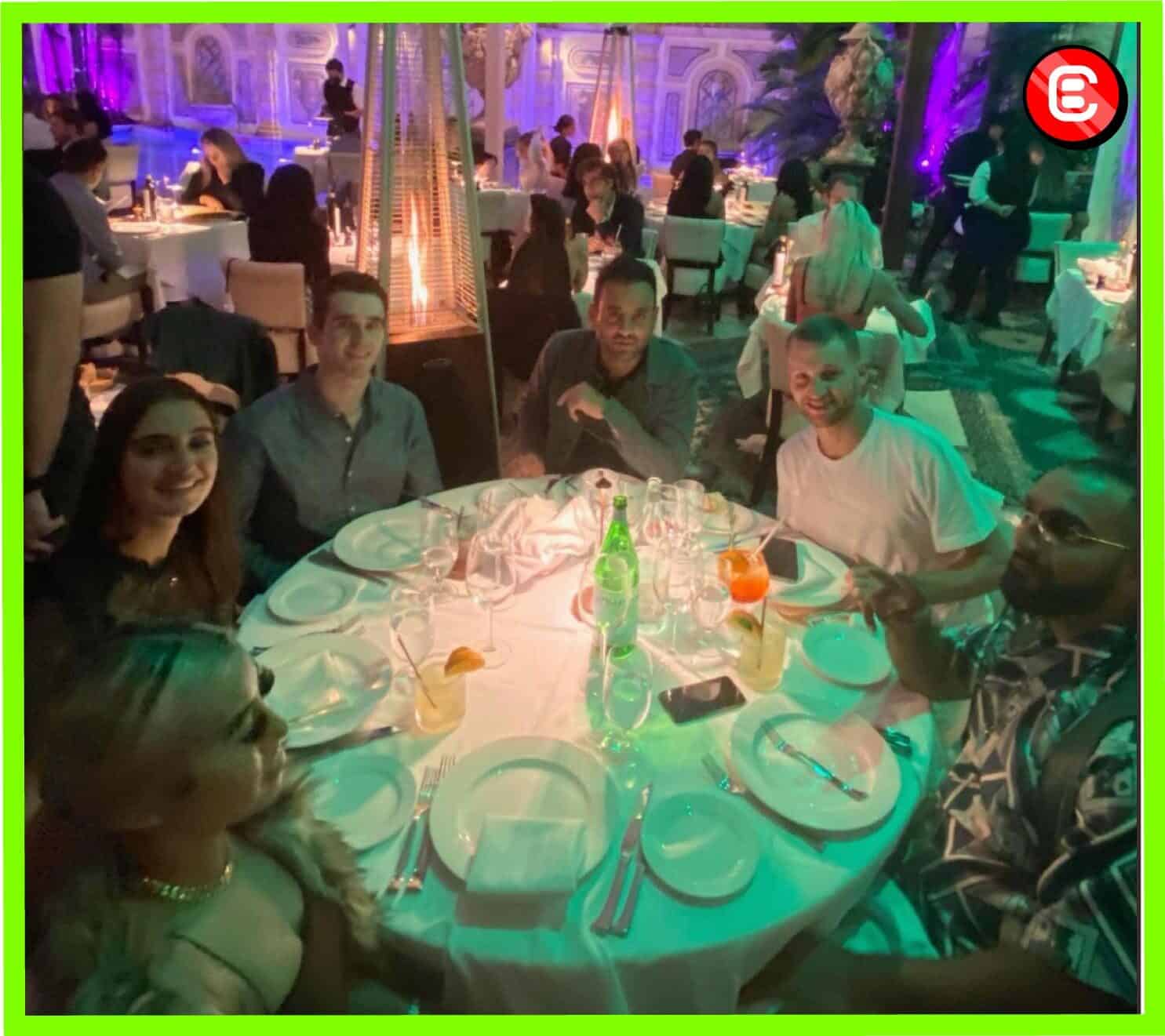 Hang on… is Sheldon eating a phone for dinner?
Anyway, back to business:
If your risk tolerance is low,and you want to minimize downside risk,
place big bets in the picks and shovels (for gaming, that's guilds and infrastructure!)
place much smaller bets in a carefully curated selection of individual games, and
let them do their thing!
If you're looking for outsized returns and can stomach the downside, then (and only then) should you start placing slightly larger bets in a handful of specific (and rigorously researched!) gaming or metaverse plays.
Banter wisdom
Animoca Brands has proven what is possible when vision and conviction combine. As Uncle Ran always says, and Hustle clearly agrees, developing a thesis is the first step to investment success.
The second step is having a plan, building a portfolio that covers each and every aspect of your thesis.
Step three? Sit back and let them do their thing! We like to call it HODLing.