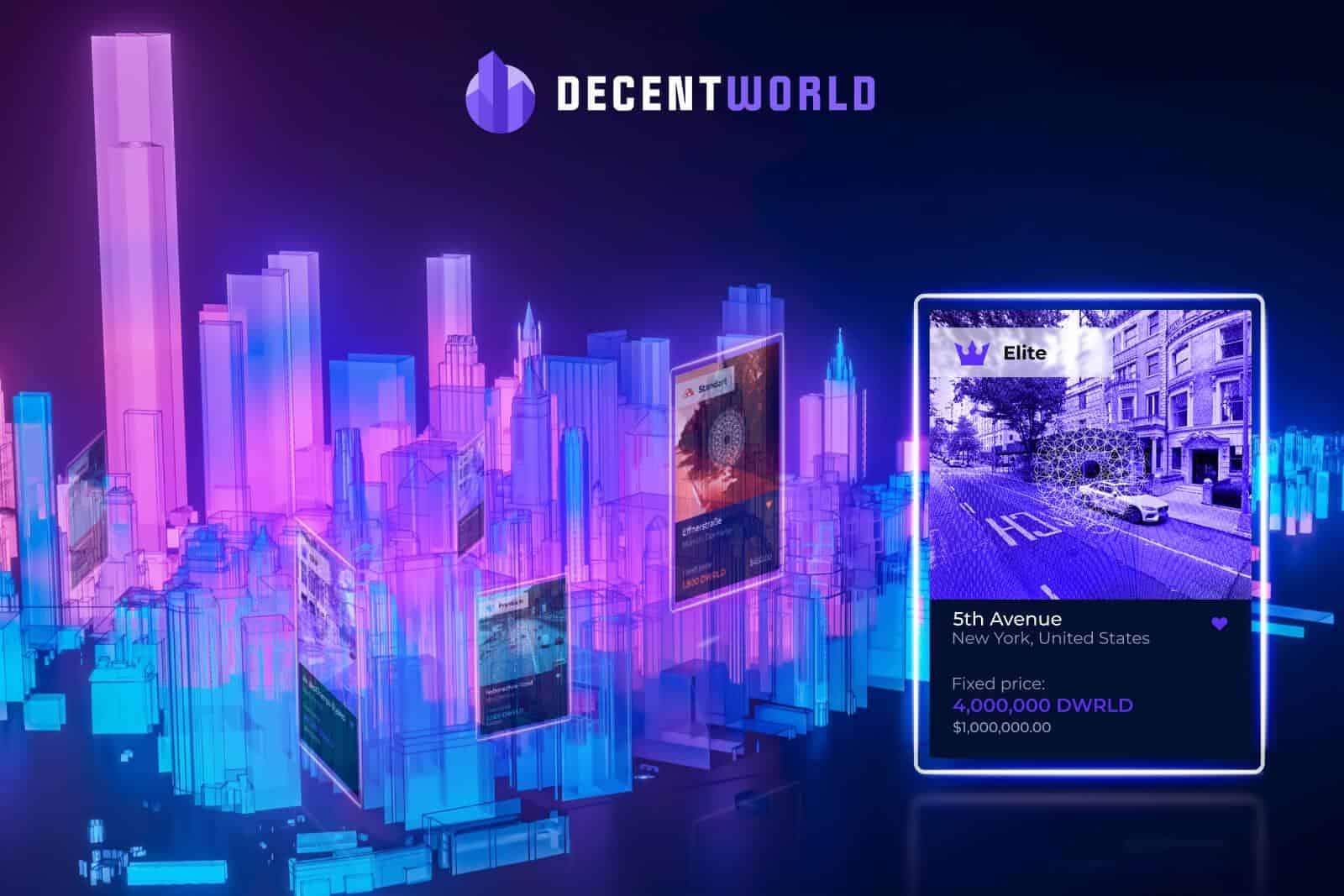 Zug, Switzerland, 13th May, 2022, Chainwire
DecentWorld metaverse expects a solid expansion leap, the creators behind the metaverse project announced. As of next week, the total number of Street NFTs will jump from 12M to a whopping 18.5M, a sizable 35% increase. A recently launched digital real estate platform that has surprised the industry by building a replica of our globe, offers its users a unique chance to own a digital copy of any street in the world.
The Swiss-owned metaverse platform, also called realverse, offers a unique approach to the metaverse experience by creating a one-to-one copy of the real world, and they are inviting users to acquire and trade geo-based assets as NFTs. All the Streets within the DecentWorld realverse are available as NFTs and come with unique ownership certificates.
Geo-Based Assets
According to the project team, if by definition there can only be one metaverse, it should be nothing less than the real world. 
Built on blockchain technology, DecentWorld is almost a unicorn within its industry. Unlike other platforms offering fiction worlds, DecentWorld features an in-house geo-based Map with real-world-based digital Assets. 
Huge addition of Streets is scheduled for the upcoming week with 18.5 million Street NFTs available for purchase. It marks the start of another project stage, dedicated to even more immersive new environments and introducing new game mechanics.
"We are very excited about this addition, as it will open up even more opportunities for our users. From the very start, the key idea was to make sure that we matched our metaverse environment to the real world as much as possible. Instead of designing a fantasy land, we decided to build a realverse that is easy to follow and understand. With 18.5 million digital Streets, this Map will be one-of-a-kind in the industry," the creators said.
Virtual Streets on DecentWorld are classified into four different levels depending on the status of their real-world location. The more prominent or prestigious the street is in the physical world, the higher its ranking, and thus the more valuable it is in the DecentWorld metaverse. 
So far, the total sales of Street NFTs have reached $19 million, and the most famous streets worldwide such as Champs-Élysées, Broadway, and Wall Street already have owners, having paid respectively $200,000, $800,000, and a staggering $900,000.
Virtual property owners will soon be able to combine their assets into artsy collections to tell unique stories, as well as trade their digital assets on DecentWorld's P2P Marketplace with other users from around the globe. Once launched, the thoroughly combined collections will become separate assets and will help to generate yield, thus fueling the internal digital economy. 
Business Integrations
The expansion of the Map means more opportunities for future integrations. The project development team said it plans to open its APIs to allow other apps to join them in powering interoperability and growth. The ultimate goal for DecentWorld is to become the industry's leading metaverse project, an open metaverse platform that is sustainable and relevant to a broad base of users. 
"We hope that building a one to one replica of the real world will also serve as a strong foundation, attractive for other businesses and their products in the future. By creating something as prominent as a geo-based digital space no smaller than the Earth itself, we are able to offer vast opportunities & long-term value," the creators of DecentWorld explained.
Other plans for DecentWorld include an immersive 3D layer built with Unreal Engine 5, open P2P Marketplace, E-commerce, and other features, all planned to be launched this year.
About DecentWorld
DecentWorld is a Swiss metaverse digital real estate platform built on blockchain technology to introduce a next-generation web3 experience. The platform allows members to purchase and trade virtual Street NFTs, which can then be combined into Collections. Completed Collections have additional value as they generate yield that is paid out to the owner. Using state-of-the-art security features, DecentWorld also stands for trust and transparency in the blockchain industry.
To fully explore our metaverse, please visit www.decentworld.com.
Follow our latest updates on Twitter, Telegram, Instagram, LinkedIn, and Facebook. 
Contacts
Communications Manager