With Wednesday's US consumer inflation data announcement feeling like ancient history, the crypto market looks poised and ready for some positive price action.
In this morning's show, Sheldino treated the Banter Fam to another charting masterclass, preparing us for the weekend ahead with some sweet altcoin entries.
Bitcoin dominance is weak – the alts are ready to run
USDT dominance shows sidelined money is preparing to enter
Some fantastic trade-set ups on some of our favorite tokens
Bitcoin
We're seeing a short (and perfectly healthy) pullback since breaking those $44k levels, which saw the 4-hour stochastic relative strength index (RSI) cross at the top; an indication that BTC may have been overbought in the short term!
As Sheldon reminds us, checking the stochastic RSI can give you a clue as to whether a coin is overbought or oversold at any given time, by comparing its current price toits price over time .
Just remember to consider time frames:
The 4-hour RSI gives an indication of what might happen across the next day or two.
The daily RSI speaks to the next week (or two) ahead.
The weekly RSI can point towards the coming months.
Takeaway? Whether you're a trader or investor you're still using the same tool (stochastic RSI), just across different time frames!
For now, Sheldon wouldn't be surprised if Bitcoin hovered in the $42-$43k region for the rest of the day: he's patiently waiting for the RSI to come down on the 8-hour time-frame! Once we confidently break $43k, then we can expect a steady grid up to the next resistance level, around $46k!
Warning signs to watch out for? Sheldon suggests it could be wise to hold $41k, which represents an almost year-long uptrending support line. Dropping those levels would hint that the bears are gaining strength! Right now, it looks like momentum is firmly on the bulls' side as they attempt to reverse the (short-term) downtrending structure.
Dominance
What a juicy chart this is:
Even as Bitcoin rallied yesterday, dominance fell down to support. Where's the opportunity? In alts. It's degen time. And money could be ready to enter the market.
Just check out the USDT dominance chart: after a brief rally (following lots of uncertainty in the market), it has rejected off a key 0.618 fibonacci level. In layman's terms, that means there's a hell of a lot of sidelined stablecoins ready and waiting to hit the market. Combined with weak Bitcoin dominance, all signs suggest investors are eyeing up the alt-coins.
RUNE
Rune is looking fantastic. Even better if you've been following Sheldon's calls!
The Sniper is on fire! If you'd been paying attention, you'd have bought at entry, taken profits, and best of all: Rune has pulled back and is retesting those original entry levels! So you can buy back and add even more to your bags. Compound those gains!
AVAX
Back in the buy zone, AVAX is still looking amazing on multiple time frames. Long term, it's sitting at the very bottom of a downwards triangle – so a great place to be Dollar Cost Averaging. Short term, it is also looking ripe for an entry. Just yesterday, Sheldon told us to be patient. Hopefully you listened.This little pullback has brought AVAX back into the green box, presenting a quick trade opportunity: with a tight stop-loss at around $87 and some clearly defined profit-taking levels, you're risking 2% for a 15 -25% upside. Not bad.
LUNA
In the short term, Sheldon's tinglies are telling him a move up to between $88 and $100 is possible. And we're smack in the buy zone for a nice short term play.
Sheldon anticipates a similar move to the RUNE trade we just covered: a short term rally to these take profit (TP) levels, a pull back to (or close to) support, before resuming its trend to the upside.
EGLD
EGLD is back in the buyzone! 
This one came down and narrowly missed Sheldon's stop-loss by a whisker. It's still a great entry point, but you might want to bring the stop-loss down to around $1.89 or thereabouts (as seen above) to keep the trade in play. No need to get stopped out without good reason!
LINK
Link bounced beautifully from our buyzone and is showing incredible strength in general. 
It looks as if it's pulling back to test support, though. If it drops down into the box (it's just kissing it at the moment!) then it's a great time to add to your bags.
DYDX
Just look how long this thing has been trending down. As a long term investment, it's on special, and the weekly stochastic RSI suggests an upside move is coming.
On a short term basis, it's just broken trend, came down to test support, and now looks ready for a move to the next level of resistance (around the $10 mark). With a tight stop-loss, this potential trade has an excellent risk to reward ratio!
ADA
A screaming buy!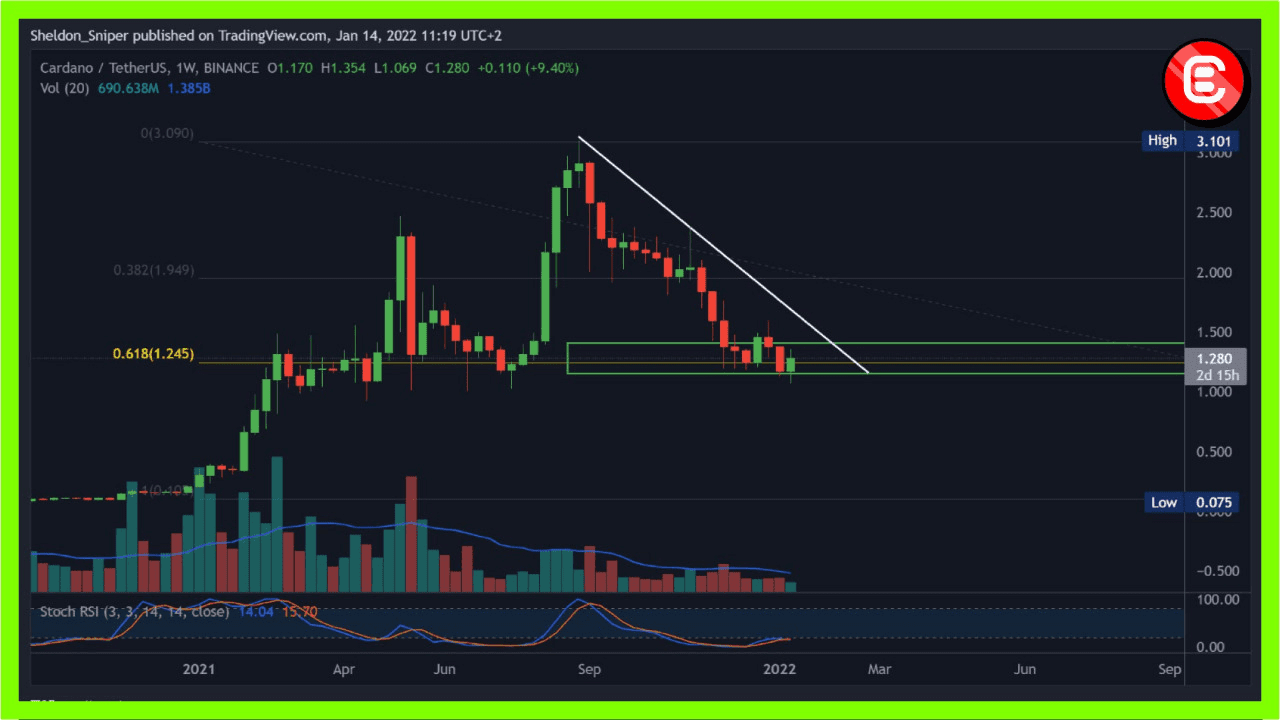 In fact, Sheldon's so hot for ADA, he's dedicated an entire article to it. Don't miss the Sniper's chart of the day for a deep-dive!
Pro Sniper tip
FOAN coins (FTM, ONE, ATOM and NEAR) have shown incredible strength – dips are being bought up like hotcakes. Keep some dry powder ready, have those your eyes peeled, and be ready to pounce!
Banter wisdom
The technicals and fundamentals are aligning for some beautiful altcoin action. Now could be a great time to place some bets. But don't forget: a trade entry without a stop-loss or take-profit levels isn't a trade, it's a shot in the dark! Sheldon was dropping fire this morning, so don't forget to catch up here for the full range of calls. Oh, and he's off to Miami today. So wish him a bon voyage on Twitter! And if you're in Miami and own a Lambo (or Bentley), he and Ran are still looking for a Banter Fam chauffeur!