Overnight, we had Russia launching attacks on Ukraine, which has resulted in a major sell-off in both equity markets and the crypto markets, with a possibility of more to come.
Today, we look at where the price of bitcoin could possibly find support if we were to drop further from here.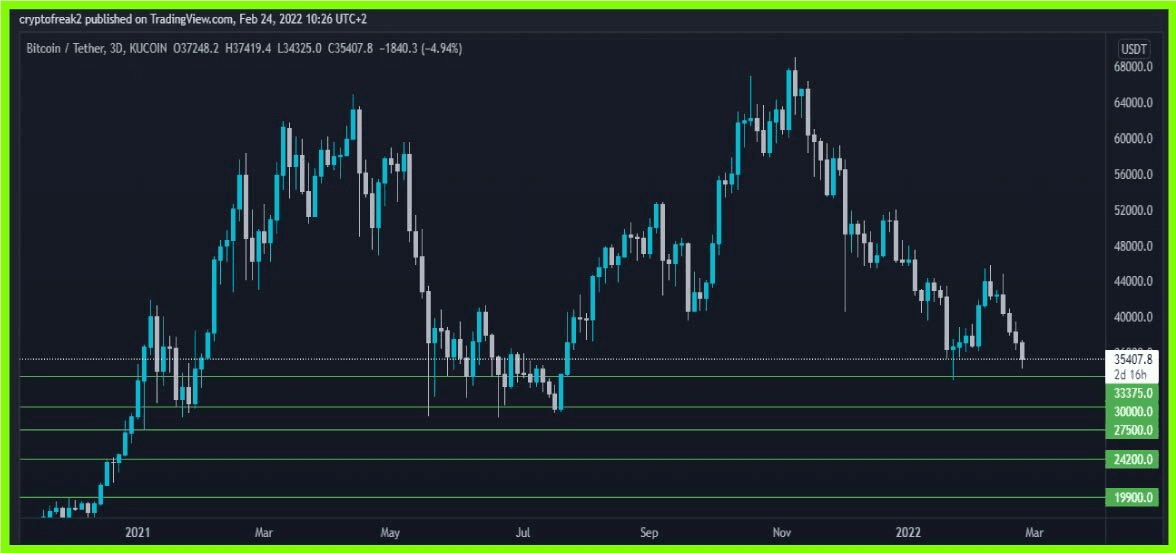 The first area is $33,375, which has been tested in May last year, and also January this year.
The next crucial area is at $30,000. This area was tested in January and also in July last year. This critical area needs to hold, as below $30,000 will drop bitcoin down to areas that were not tested on the way up in December 2020. A lot of investors also bought bitcoin and crypto at the $30,000 level in July last year, and a drop below this level will certainly create extra panic in the market.
Below $30,000, there is a small support area at around $27,500. If that does not hold, there are areas that have not been tested in December 2020, that being at the $24,200 and the $19,900 levels. There is liquidity still in these areas ready to buy, and will definitely be areas of interest if we drop there.
There is definitely fear out there, and markets do not like uncertainty. Remember that markets do not drop in a straight line down; support levels will be tested along the way, resulting in relief "bounces". These "bounces" will create opportunity trades.