Using CoinPanel is the same as having Sheldon the Sniper in your back pocket, all day, every day. Learn how to use these tools in an easy way, or even just copy and paste Sheldon's techniques with a few clicks of a button!
Use the link below to sign up today and stand a chance to win in our giveaways!
LINK HERE: https://app.coinpanel.com/chartmirroring?ref=cryptobanter
Today we look at Axie Infinity Shards (AXS). AXS is the governance token for the NFT-based, Axie Infinity game. Token holders will be able to shape and vote for the direction of the game universe. This is unlike traditional games, where all decisions are made by the game developers. AXS holders will be able to stake their tokens to earn more AXS, and even vote on governance proposals.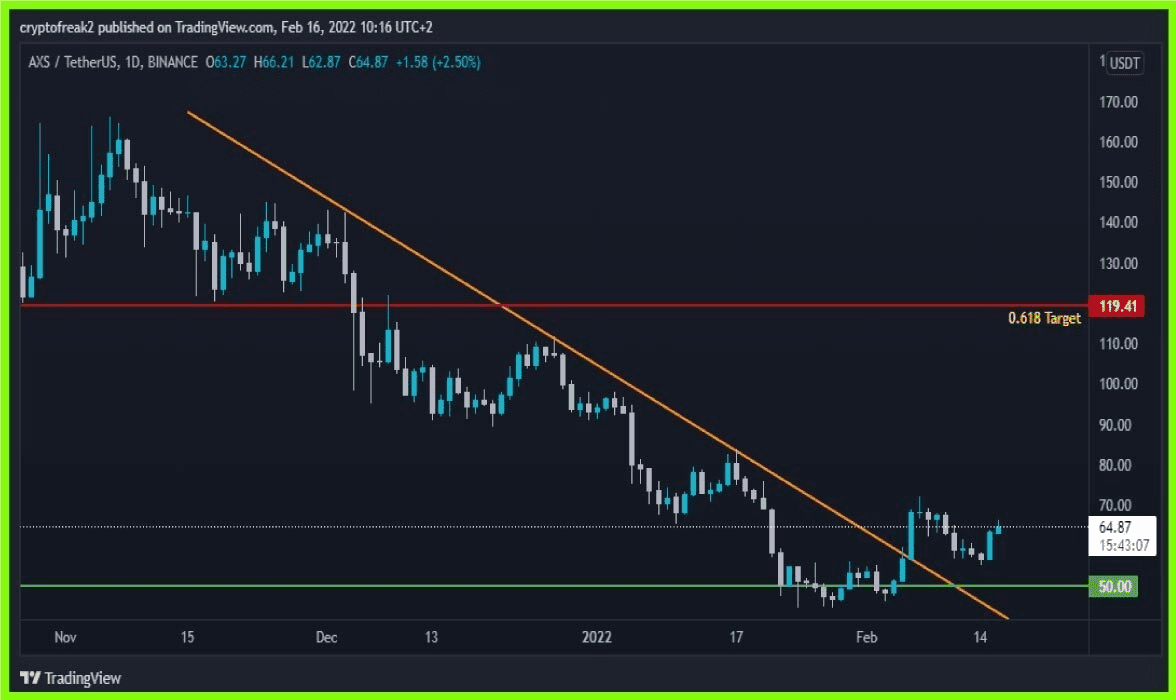 Axie Infinity is a very popular blockchain game that was inspired by the immensely successful Pokemon game series. It features an open-ended, massively flexible gameplay that allows players to collect different digital pets known as Axies, which can be raised, battled and traded throughout the ever-expanding Axie ecosystem.
As of August 2021, Axie Infinity is currently the number one Ethereum-based gaming DApp by weekly on-chain volume. It is also one of the top three most popular gaming DApps by user counts – with over 100,000 unique weekly users. Many people also agree that Axie is the most popular blockchain game of 2021.
The platform is designed to provide a fun, accessible and educational way to gain exposure to the capabilities of blockchain technology. It has already been successful in executing this vision, as Axie Infinity is now a prominent on-ramp to the blockchain industry in many developing countries.
Axie Infinity has helped to define a new game genre, known as play-to-earn, since it allows users to earn an income in the form of AXS, SLP (Smooth Love Token) and various items just from playing the game. New players will need to either buy (or borrow) a minimum of three Axies to begin playing. Currently, the cheapest available Axies (referred to as the floor price on NFT marketplaces) cost somewhere between $70 – $250 a pop, whereas Axies with any sort of desirable properties, such as body parts, abilities, or skills, will likely cost significantly more.
AXS launched on the Binance exchange in November 2020, at a price of $0.10. Within twelve months, the price had reached a whopping $166.00. The price has retraced with the rest of the market over the last three months, coming down to a low of around $45.00 on January, 28th 2022. Over the last three weeks, we have seen the return of the bulls, and they have started to buy AXS again. The price has started to move up again, and is currently at $65.00. Our first targeted take profit area will be at the 0.618 Fibonacci (Fib) retracement from the November 2021 high to the January 2022 low. This is at around the $120 area, an almost 100% profit on this trade set up.
Gaming tokens are very hot at the moment, and we definitely see some more potential upside for the most popular gaming tokens, like AXS, in the next couple of weeks.