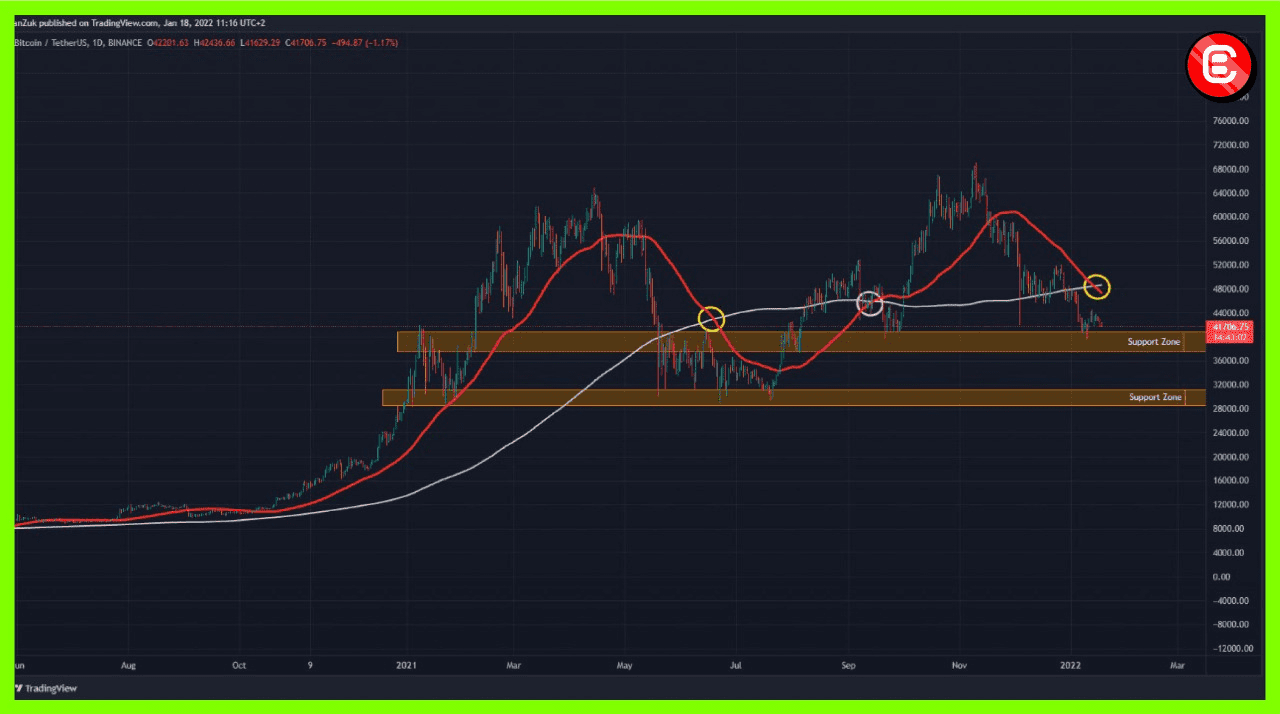 Today we look at one of the most important trading signals, the Death Cross. The Death Cross happens when the 50-Day Simple Moving Average (SMA) line crosses to below the 200-Day Simple Moving Average line. It  is seen as indicative of negative market sentiment by traders and especially institutional traders.
Our previous article on moving averages explained another important trading signal, the 21-weekly exponential average.
The latest BTC Death Cross happened on 14 January 2022 (circled in yellow on the chart). Previously it happened on 19 June 2021. Before that, we had Death Crosses on 20 March 2020 and 27 October 2019.
The opposite of the Death Cross is known as the Golden Cross (circled in white on the chart) When we had the Death Cross in June 2020, it took 86 days to get the Golden Cross.
Moving averages are lagging indicators, meaning that price turns bearish long before the Death Cross, and can turn bullish long before the Golden Cross happens. Institutional investors see the Death Cross as a confirmation of a downtrend.
We have highlighted the support levels of Bitcoin on the chart as orange zones. From a technical perspective, we could see further downward pressure on price until we get a reversal.
If all this "technical talk" is confusing, do Sheldon's Master Classes on our YouTube channel, where Sheldon educates in a simple way. You can view the first lesson here. These short 10 to 15 min videos explain technical analysis in a simple manner.